About Ramsbottom Kitchens
We have over 28 years of experience
Who are the Ramsbottom Kitchen Company?
If you're looking for a new, traditionally painted kitchen design in a choice of 11 colours or for a chic handless, contemporary look for your home, come and visit our fantastic showroom in the heart of Ramsbottom. We have over 28 years of experience working with some of the UK's leading kitchen brands such as Sheraton, and we're also a Neff 5 star Master Partner!
Your kitchen is our business and so our aim has always been to accommodate your needs and desires, making the kitchen of your dreams a reality. We specialise in providing quality bespoke kitchens of the highest standard, focusing on quality, style and customer satisfaction.
So, Why Choose The Ramsbottom Kitchen Company?
Throughout our 28 year history, we've worked throughout a variety of locations in the North West including Manchester, Preston, Blackburn, Bolton and the rest of Lancashire! Our reputation is built on customer satisfaction and it's only continued to grow, year by year!
We understand that a kitchen is at the heart of every home and we know how important it is to have a kitchen designed and fitted that reflects your lifestyle. It's the room where you have family meals, where the kids do their homework and where you catch up with friends over a cup of tea or something a little bit stronger!
When you decide on having a kitchen designed by The Ramsbottom Kitchen Company, we intend to make the most of your space, your budget and your ideas so as not to be wasteful of anything.
Visit our Kitchen showroom today, no appointment is necessary, you will be looked after by our staff and given the right advice for you to consider.
More About Us
Formed in 1996 in the town of Ramsbottom, we have decades of invaluable experience in the kitchen industry. This puts us in a good position to exceed the expectations of our Bury based customers.
Throughout our time of delivering amazing kitchens, we have built a strong relationship within the Bury area, with our own award-winning showroom based within the borough itself.
Take a visit to our incredible 15,000 square foot showroom, and browse around a selection of modern, traditional and shaker kitchens. Our professional team of experienced kitchen experts can help deliver the perfect kitchen design to your Bury home.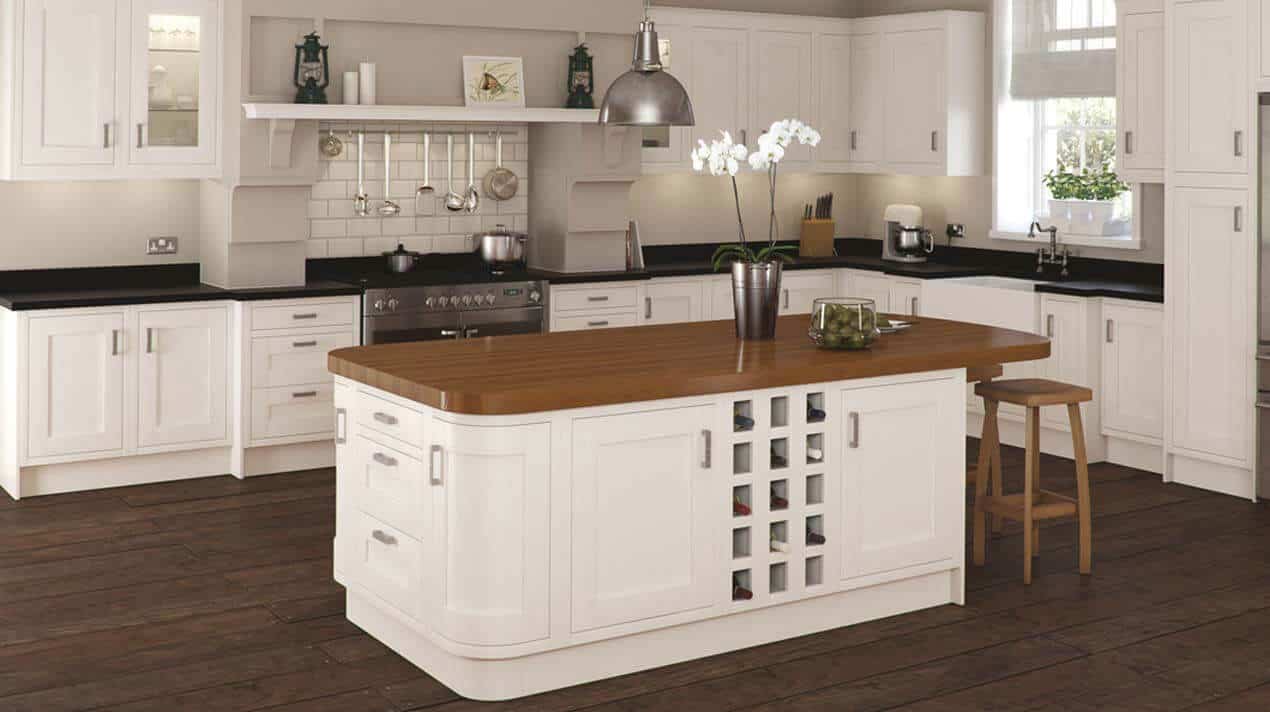 Our Mission Statement
Our promise is to listen.
Provide you with the full benefit of our experience.
Deliver the best level of service and quality at a great price.
Leave you with your ideal kitchen come the end of the project.
Values & Beliefs
We believe that the excellent reputation we pride ourselves on stems from our award-winning showroom. But even that would count for nothing without the knowledge and hard work of our great team of designers, installation experts and advisors.
We make sure all the kitchen installation teams we send out through Bury are trained to the highest possible level, and able to work to the levels of precision and proficiency that our work demands.
We value every single customer who comes to us by taking the time to listen to their needs and requirements, only then offering the relevant advice based on our knowledge and their own wishes.
From the second you walk into our showroom, we promise to provide a warm and welcoming environment in which you can embark on the kitchen journey of a lifetime.