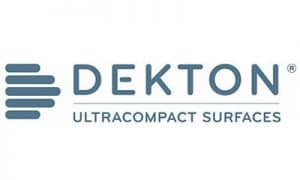 Dekton
Everything to do with Dekton is extraordinary. In the development of Dekton, we firstly sinterize the raw materials using basic components to oversee the whole process and the characteristics of the particles used in the manufacturing process. The process uses up to 16 different decorative techniques which allow three-dimensional design models and an endless array of aesthetic possibilities.
High UV resistance
Dekton is highly resistant to ultra violet (UV) light and will not fade or degrade over time making it perfect for both indoor and outdoor applications.
Highly scratch resistant
Dekton is the most scratch resistant surface on the market and while the slip of a knife won't damage Dekton, cutting boards are still recommended to protect your household utensils.
Resistant to stains
While other surfaces are stain resistant, Dekton is completely Stain Proof. Even the most stubborn stains like wine, coffee, markers and rust can easily be removed from the surface.
Since Dekton has extremely low porosity and contains no resins, it is chemical resistant. Drips or splashes of common household chemicals like bleach, drain cleaners or oven degreasers won't harm Dekton.
High resistance to fire and heat
Dekton withstands high temperatures without burning, scorching or cracking. Hot Pots and Appliances like Crock Pots can be placed directly on the surface with no worry of damage.
Read more: Quality Quartz Worktops From Dekton