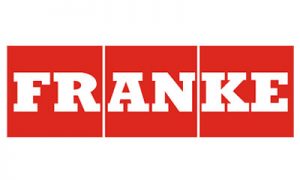 Franke
Ramsbottom Kitchen Company's glowing reputation is something that it's only been possible to achieve by working with some of the best names in the industry. In the Ramsbottom Showroom we are proud to stock, not only the UK's biggest brands, but also some of the world's biggest brands, Franke Kitchen Sink Systems being one of them.
Franke was established in 1911 and is now the largest manufacturer of kitchen sinks in the world. Nowadays, the kitchen sink is much more than the wall attachment and wooden drainer of yesteryear, in fact, they're good looking and fashionable as well as functional.
The fact that the kitchen is now the heart of the home is no longer a secret, so you want it to stand out, to be somewhere your family and friends want to spend their time. This not only means choosing beautiful bespoke units, but also quality fixtures and appliances to ensure excellence excludes throughout.
We can supply you with a range of Franke kitchen sinks and tap fittings that are guaranteed to complement your kitchen, whatever design you've chosen.