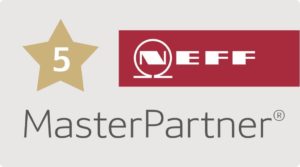 NEFF Ovens & Kitchen Appliances
The kitchen really is the heart of the home and if you want appliances that will completely transform this space into the modern, digital haven you're looking for, then you're in the right place. Neff appliances are innovative and creative, they'll make your kitchen something much more than a place to cook.
Neff has been filling British kitchens with amazing appliances for more than 40 years. They're intended to completely transform the way you use your kitchen.
Whether you're looking for a new fridge, extractor fan, dishwasher or the beautiful Slide & Hide oven range, our range of Neff appliance will look the part and work hard so that you can make it look easy.
Rather than being hidden away in a corner, the Neff Slide & Hide oven range will make your oven the focal point of your kitchen. With a door that disappears under the oven when you open it, all of your kitchen experiments will become so much easier.
Let's be honest, an extractor fan never used to look like much in the kitchen. In fact, they really weren't attractive. Well this is no longer the case. Now, Neff extractor fans really are a thing of beauty. They're not only a practical accessory, they're also a beautiful talking point that your family
and guests will love.
Ramsbottom Kitchen Company is recognised as a 5-Star Neff MasterPartner. Neff only works with and sells through specialists they trust. By choosing a Neff MasterPartner®, you are assured of the highest quality advice, expertise & design.
As recognition of our 5-star MasterPartner status, Ramsbottom Kitchen Company can offer  the Neff Distinct Collection a range that is exclusive to MasterPartners and can't be bought on the Internet or from large multiples.
New for Summer 2019: NEFF Home Connect
NEFF have introduced for the summer of 2019 new appliances featuring Home Connect. Cooking at its best has always been a sociable experience in which the kitchen works in concert to support cooks in living out their creativity. NEFF have taken the connected kitchen one step further: now you can manage your oven, fridge, dishwasher and other home appliances with Wi-Fi and Home Connect.
Tap via the app, speak to your oven with voice control and make appliances interact with one another automatically. And these are just a few examples of what Home Connect makes possible.
The future of cooking has arrived!