With so many kitchen tiles design ideas available, it can be hard to decide which kind of tile to choose.  When planning tiling options for your kitchen (or any room), it's usually best to consider the overall look of the space and whether that particular design would blend well with the rest of the decor.
To help fire your kitchen tile inspiration, here are seven different kitchen looks – and seven suggested tiling options that pair perfectly with them, whether it's kitchen splashback tiles ideas that you're looking for – or a larger project such as a floor covering.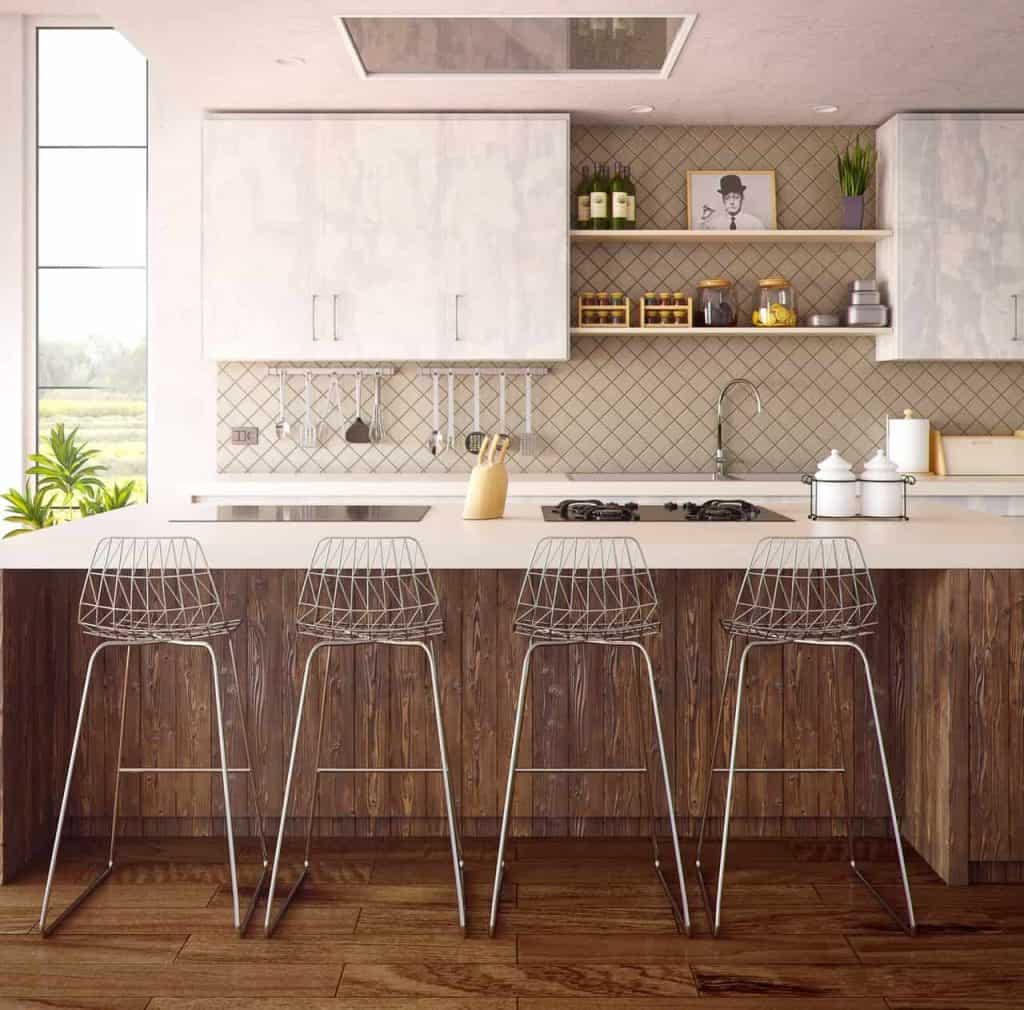 1.   Shift into Neutral
Neutral generally means natural – in this case, materials such as slate, wood or limestone. The Japandi trend (a hybrid of Scandi and Japanese minimalism) is a relaxed, calm look that's all about embracing imperfection and going with the flow – and includes lots of natural materials in addition to potted plants to bring elements of nature indoors.  Here, a muted palette, calls for greater textural variation – so consider using a variety of different tactile elements that contrast beautifully.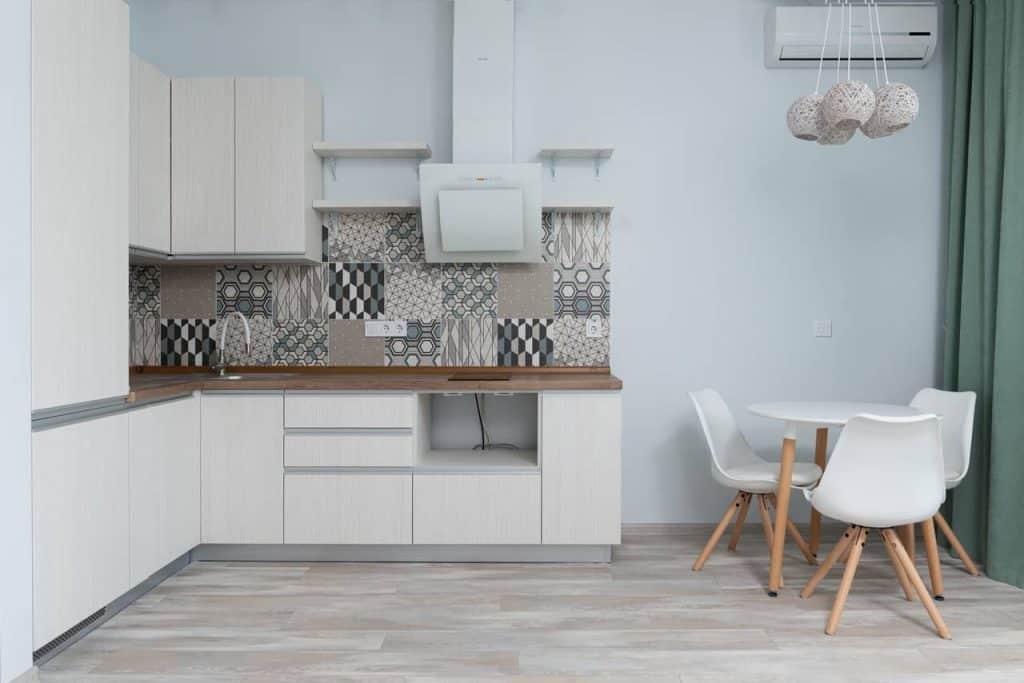 2.   Pattern On
Nothing brightens up a kitchen like a patterned tile. These come in a huge range of styles and colours and can be a great way to switch things up in an otherwise plain-looking kitchen, adding a dash of eclecticism – and if you really want to add a personal touch, you can even make your own.  The tiles themselves can also be used to create patterns such as herringbone – this is particularly effective with smaller tiles. While you can get away with covering floors with a pattern, an entire wall of it tends to overwhelm- so it's generally best to stick to small areas, like this backsplash here.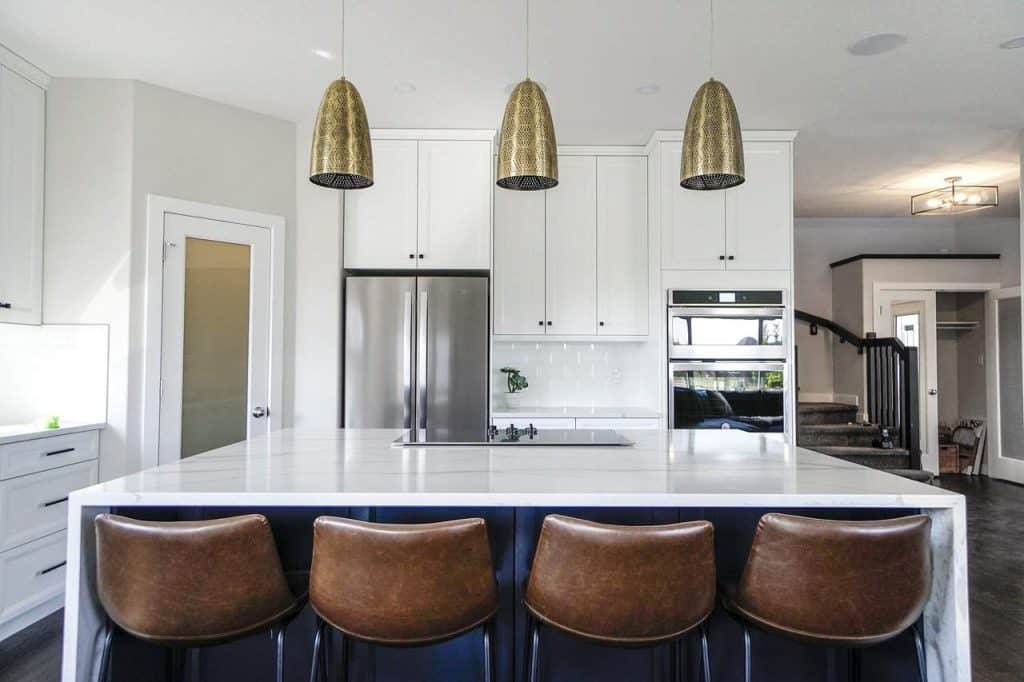 3.   Classic with a Pop of Colour
Classic white tiles might seem somewhat dull – but it depends on how you use them. In more traditional kitchens they look right at home – but add a pop of colour and things get interesting. Contrasting the clean white ceramic tile with a bold wall colour or painted furniture can really make an impact, creating an unexpected twist to the classic kitchen look. Alternatively you can try adding coloured grout to your white tiles for a fresh, modern feel.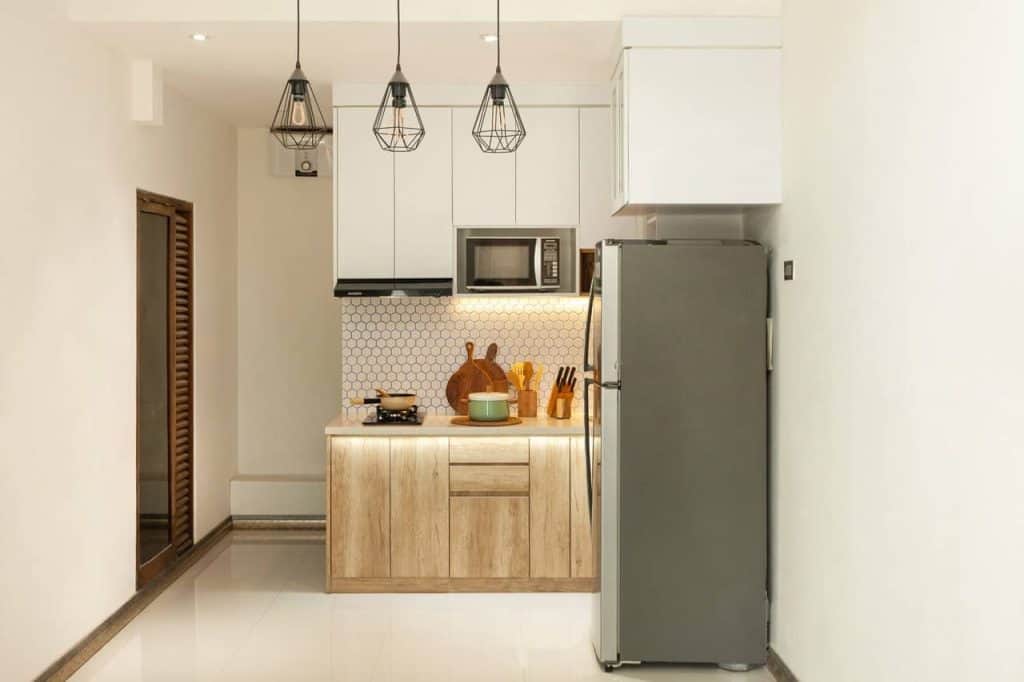 4.   Contemporary Cool
Modern tiling places much of the focus on shape and texture: using geometric designs and dynamic angles to create bold and interesting focal points, whether on the floors, counters or walls. As an additional suggestion, terrazzo has been making a comeback for some time now in home decor, heralded by the Memphis revival, which elevated the humble terrazzo from the shop floor into something altogether more special, infusing it with new colours that are a breath of fresh air in modern kitchens – whether used as part of a dinner service or integrated into the decor.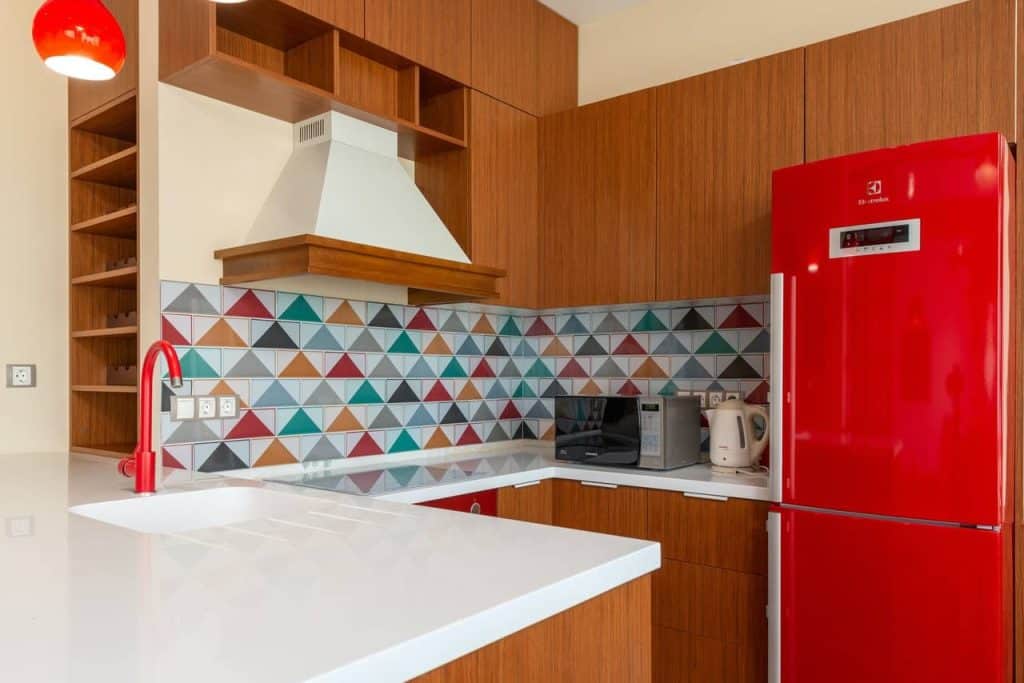 5.   Colourful
Don't be afraid to mix things up in the colour department: while a monochrome look is undoubtedly a classic, a colourful kitchen tiles design could be your opportunity to let your imagination run riot – particularly if the rest of your kitchen is fairly plain. Bold colour looks fresh and dynamic when used as a backsplash, and creates visual interest.  Have  fun choosing your favourite shapes and colour combinations – and you'll have a design that makes you smile each time you see it.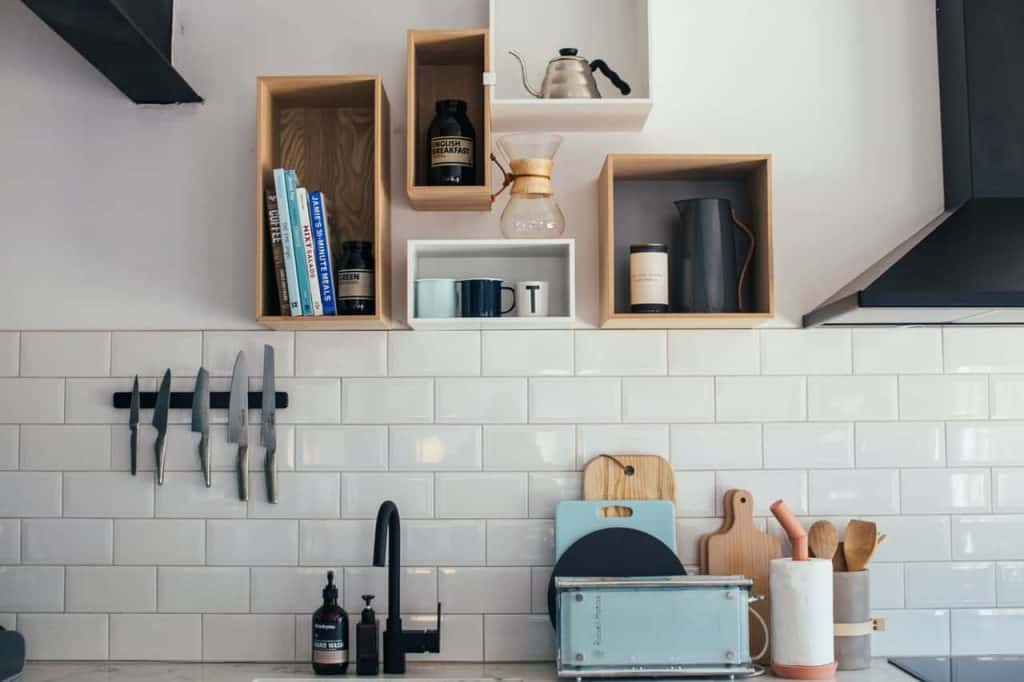 6.   Take the Metro
Metro (or subway) tiling is like the sophisticated relative of open brickwork – the same classic pattern, but a smoother, cleaner surface – and it's equally versatile, whether in a loft-style apartment kitchen or in a rustic cottage setting (if you have a home with a victorian feel, metro tiling with a dark grout is very in keeping with the period).  Be aware of the difference between flat and bevelled tiles – when contrasted with other busy patterns, bevelled metro tiles can cast shadows causing the overall look to feel cluttered, whereas flat tiles are more effective at providing a more neutral background.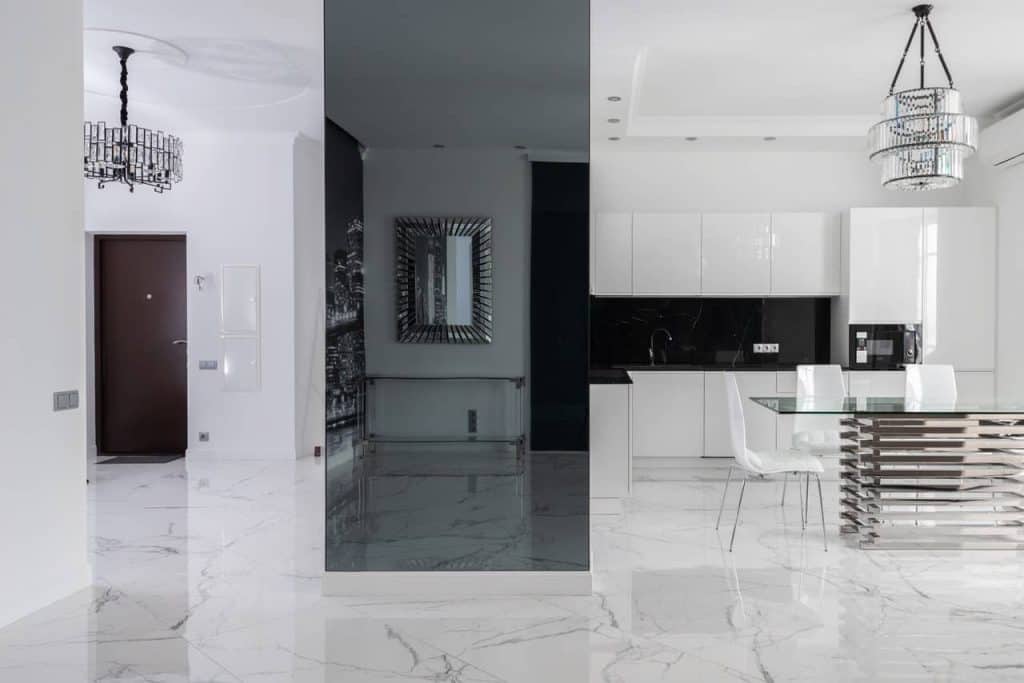 7.   Luxe
Luxe tiling can only mean one thing: you guessed it: marble. It's easily the most expensive form of tile (but if you're on a budget, there's always the option of faking it). Black or white marble looks especially marvellous in kitchens where the look is a little more decadent – so if you are the proud owner of a pendant lampshade or some fine glassware this could be the look for you. Alternatively, metallic tiles work well with a dark, glamorous look, providing drama and contrast to the space.
Choosing tiles that suit the look of your kitchen isn't your only option – with a fairly neutral background a tiled splashback, counter or floor can change the look of your kitchen instantly, providing a fabulous focal point. For more kitchen inspiration, visit our showroom in Bury where you'll find plenty of ideas in store.