Easy, breezy and simple to use, L-shape kitchen designs allow for ease of flow within a relatively high-traffic space (a convenient feature, given that kitchens are the most frequently used room in the house).
L-shaped kitchens are also highly efficient in terms of space – in that appliances and cabinets can be installed at right angles, creating more space in the centre of the room.
When personalising your L-shaped kitchen, it's a good idea to make the most of the space and emphasise this aspect of flow rather than unnecessarily cluttering up the space or by making it too dark.
If you're the proud owner of an L-shaped layout in your kitchen (or would love to be), read on for ten likeable, luminous and lively L-shaped design ideas.
1.  
Light Up The Room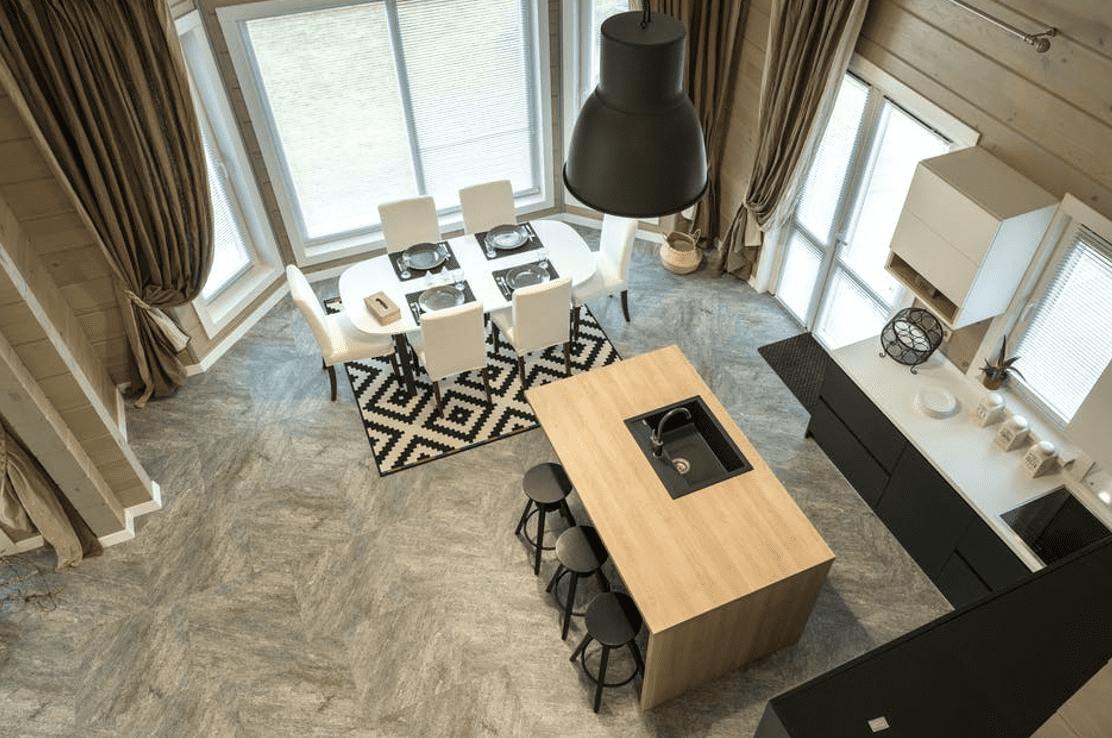 Designing your L-shaped kitchen around a series of windows or glass-panelled doors creates a sense of space, enhancing that sense of flow and making your kitchen a more enjoyable place to eat, cook and relax in.
This design is ideal for those who need to make the most of their available space and the natural light in the building.
2.  
Maximise Storage Space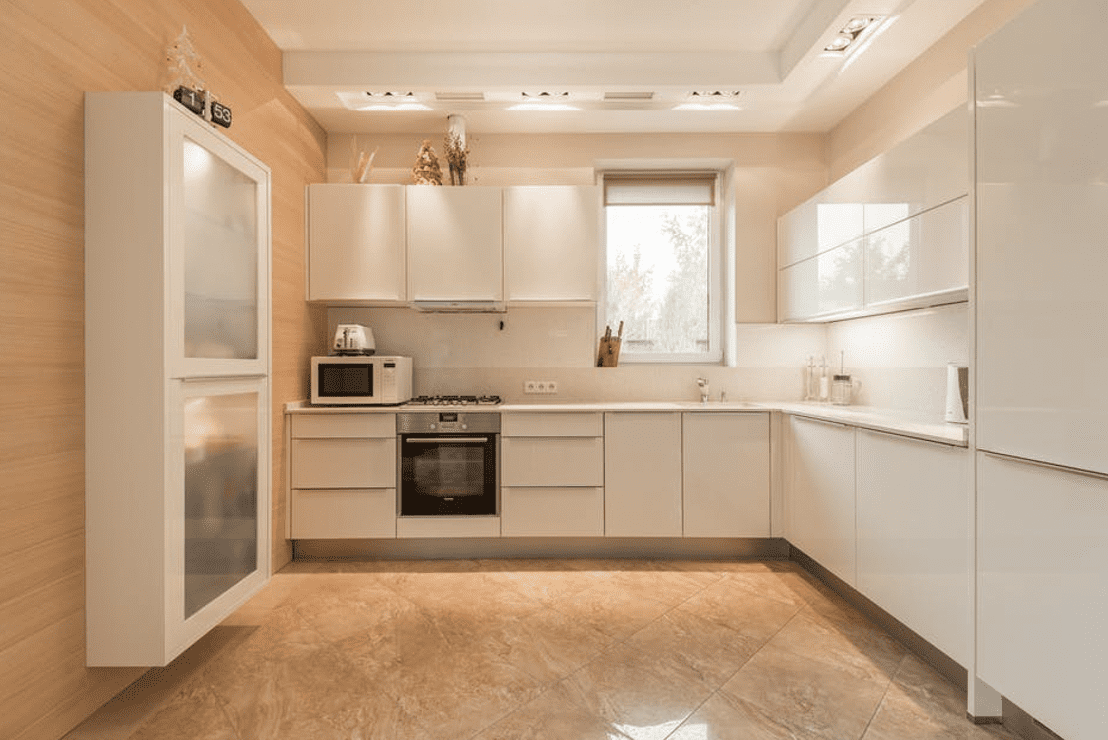 Take advantage of the available space in your L-shaped kitchen by filling both sides of the wall with easy-to-use kitchen storage units. In smaller rooms, keep colours light and remove hardware from drawers and doors to allow for a sleeker more minimal look. This design is ideal for those who want a fuss-free design combining form and function at it's most effective.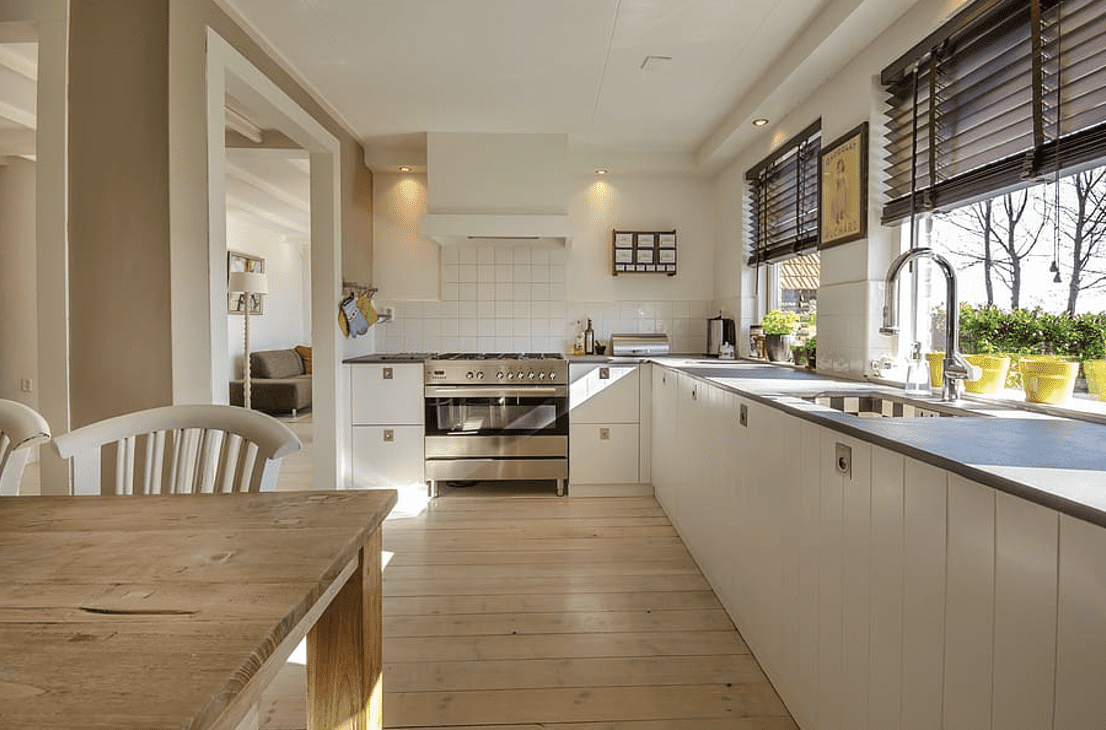 To add a more lived-in look to your kitchen, consider using a combination of wood finishes and tonal paints to create a multi-textural look that's charmingly mismatched – without being too incongruous. This look is ideal for family homes – where regular use over time creates imperfections in the furniture that tell a story.
4.  
Add a Breakfast Bar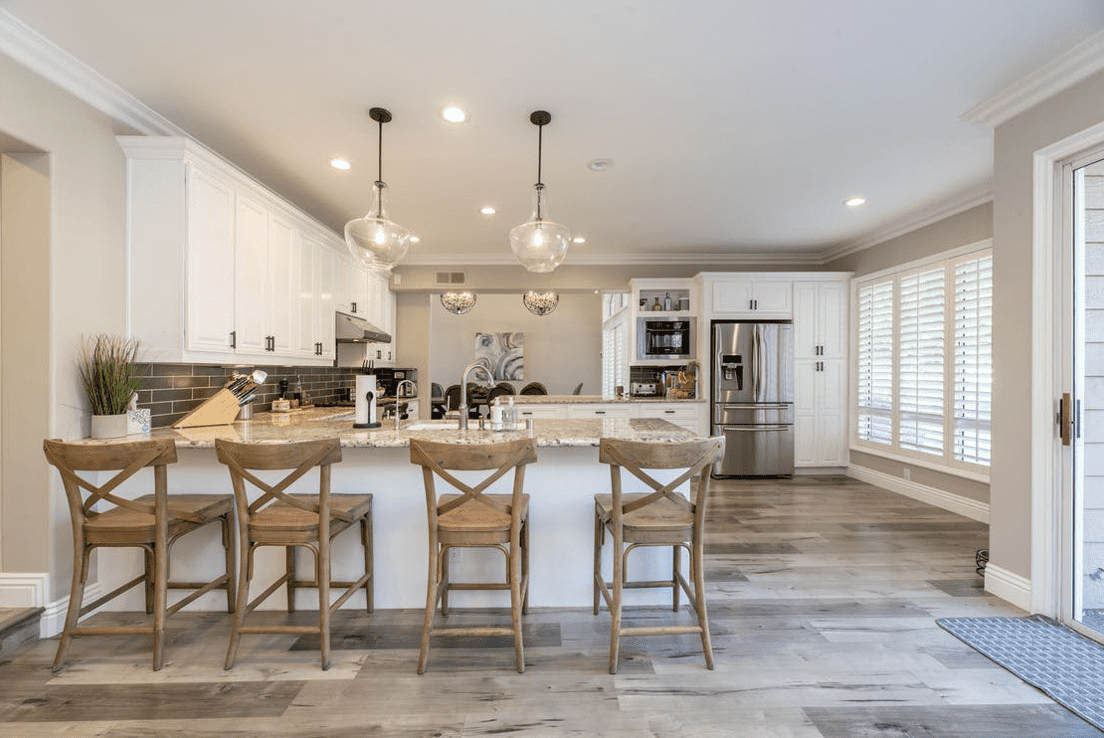 This L-shaped kitchen features a marble-topped breakfast bar, creating more of a U-shaped structure, and helping to break up the space in the room. Dark metro tiling on the wall contrasts beautifully with the lighter sage paintwork – while the oak finish used on the floor space throughout creates additional texture and enhances the sense of flow throughout the room.
5.  
Traditional Touches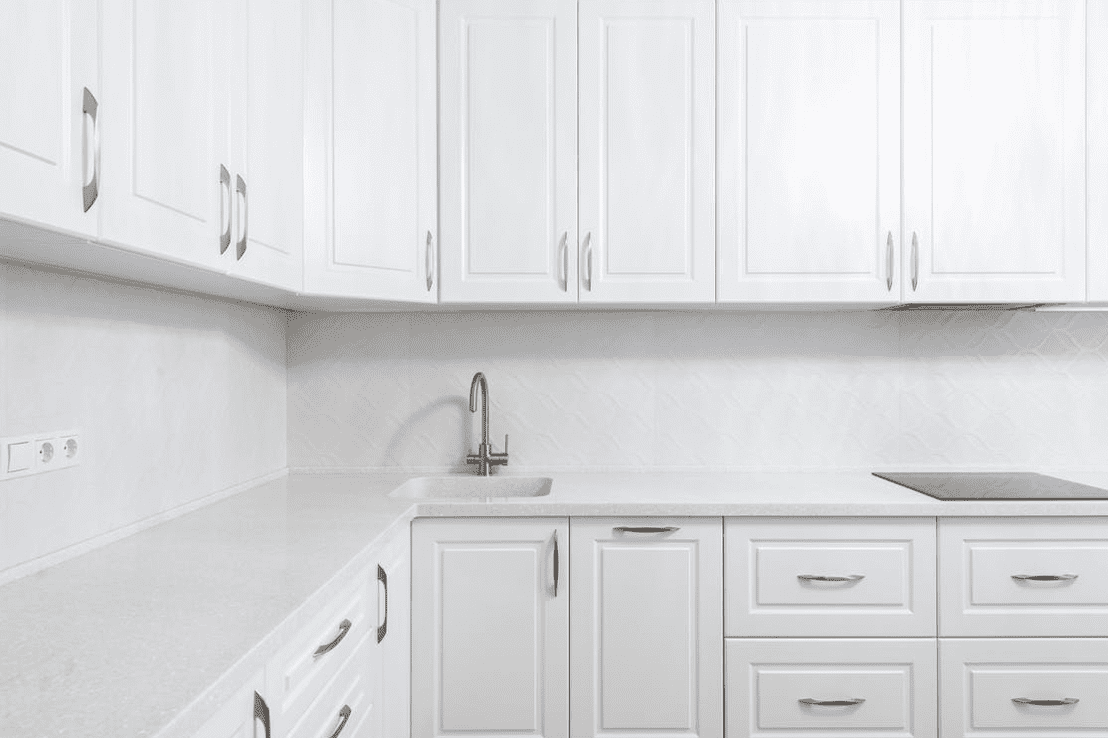 A kitchen covered in shaker-style cabinets tends to look somewhat overwhelming – but placing them on two sides of the room – as in this L-shaped, all-white kitchen here – creates more of a corner feature, drawing the eye to them. A built-in sink and hob helps keep things otherwise minimal, creating a look that's the perfect combination of old-fashioned and modern-day.
6.  
Create Subtle Contrast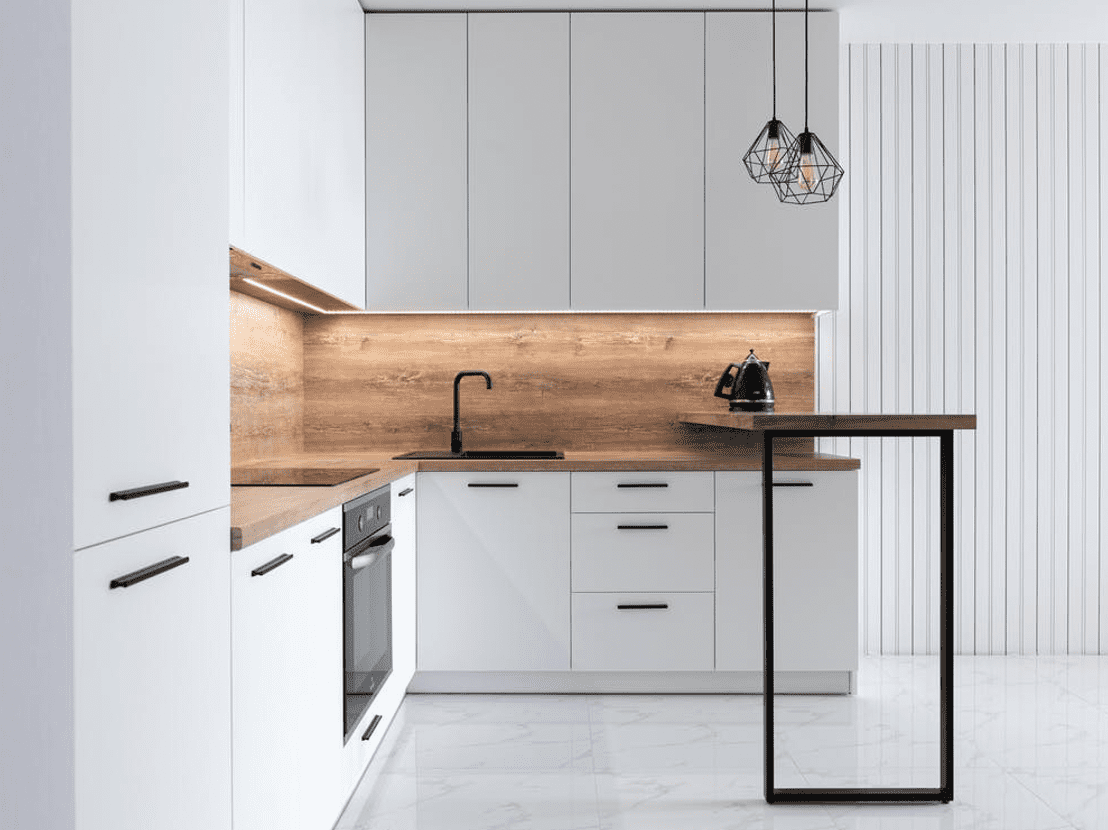 A combination of finishes – as seen in this L-shaped kitchen – creates visual interest. For this look keep the colour scheme very minimal (black and white has been used here to great effect), and add contrast with a wood finish on the backsplash. Focusing on form and texture over colour helps to make things look impactful without appearing too busy.
7.  
That Seventies Look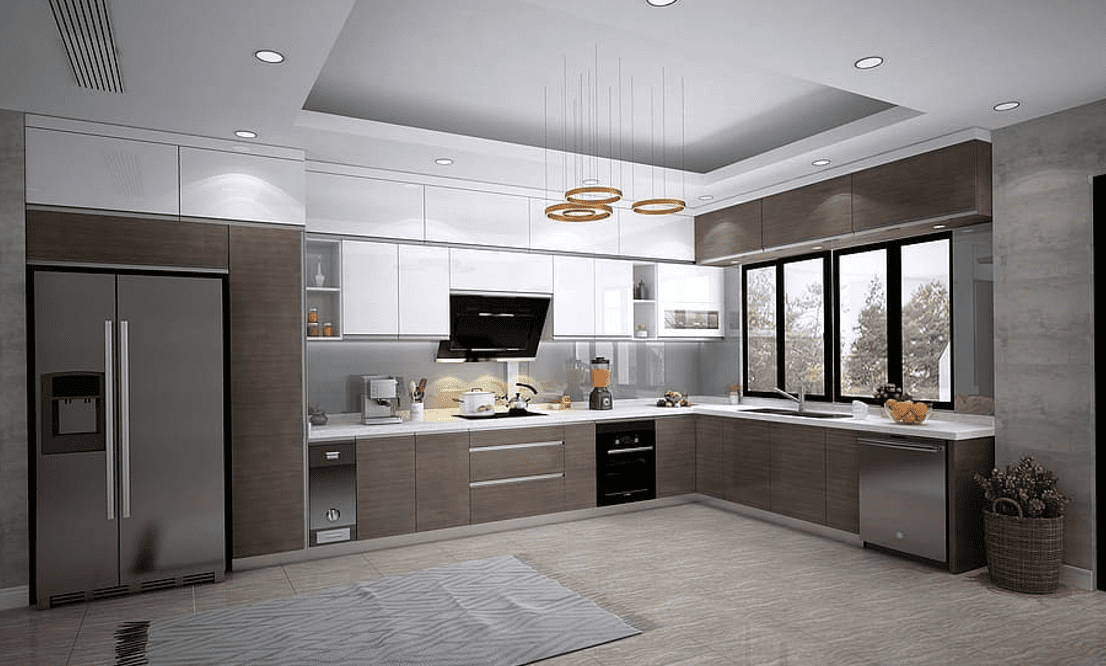 Take notes from the recent seventies revival in home decor and deck your kitchen out in a wooden finish that makes the space look sophisticated without appearing too cold. Pendant lighting adds a stylish touch to the room, while placing a rug gives additional textrual variation underfoot. Add your favourite indoor greenery to spruce up the space.
8.  
City Slicker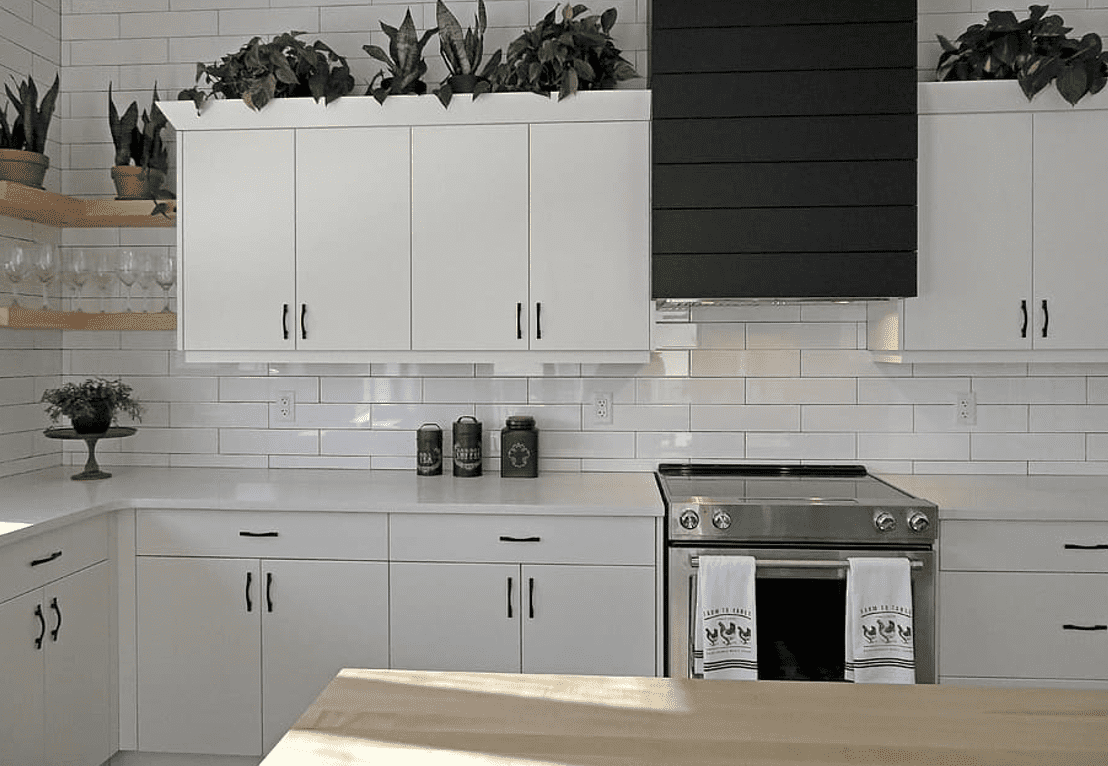 Metro tiling and a glossy finish in this L-shaped kitchen creates the perfect combination of traditional and modern. While the tiles enhance the clever layout of the room, carefully positioned plants enhance the simplicity of the slab cupboards – a brilliant option if you're looking for a kitchen design with timeless appeal.
9. Industrial Chic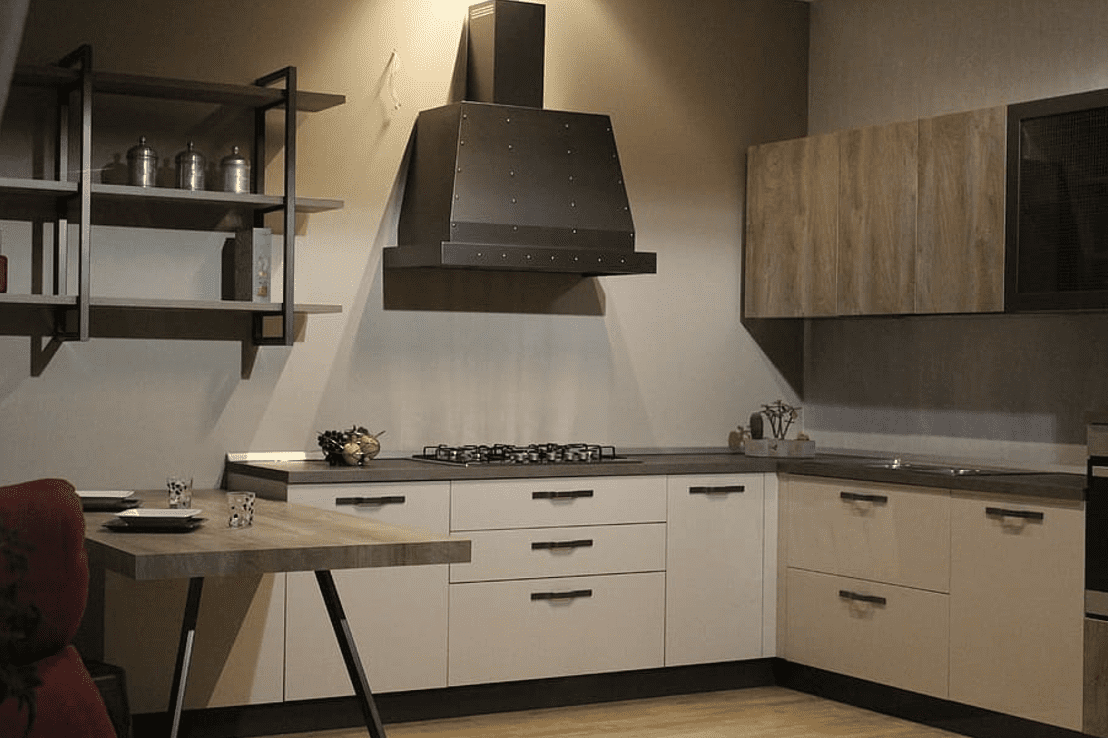 Darker, neutral tones, metallic finishes and sleek design here create a kitchen that is as practical as it is stylish. Soft lighting and wood finishes on the cabinets help to keep the look from becoming too harsh – while a dining table placed at the end creates a cosy, sociable space for guests to sit at while you're busy in the kitchen.
10. Island In the Sun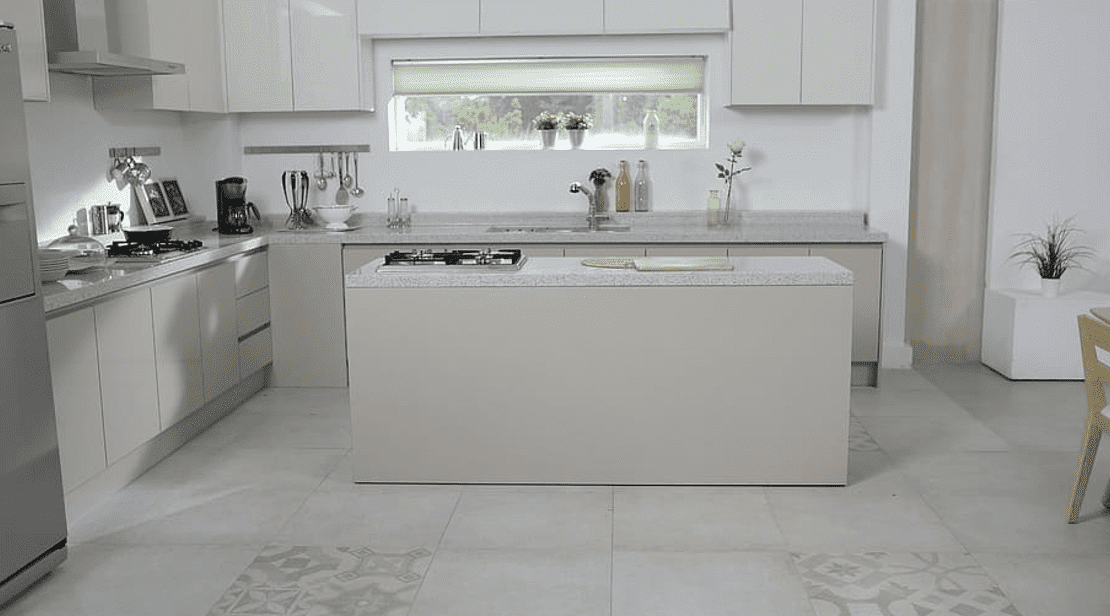 If you have the space, a kitchen island can bring an additional dimension to your L-shaped kitchen, creating extra prep space when cooking -and even doubling up as a bar or dining table when needed (foldaway stools are ideal for this purpose). This style of kitchen is perfect for busy households who might need a little additional extra countertop space.
11. Go for Gold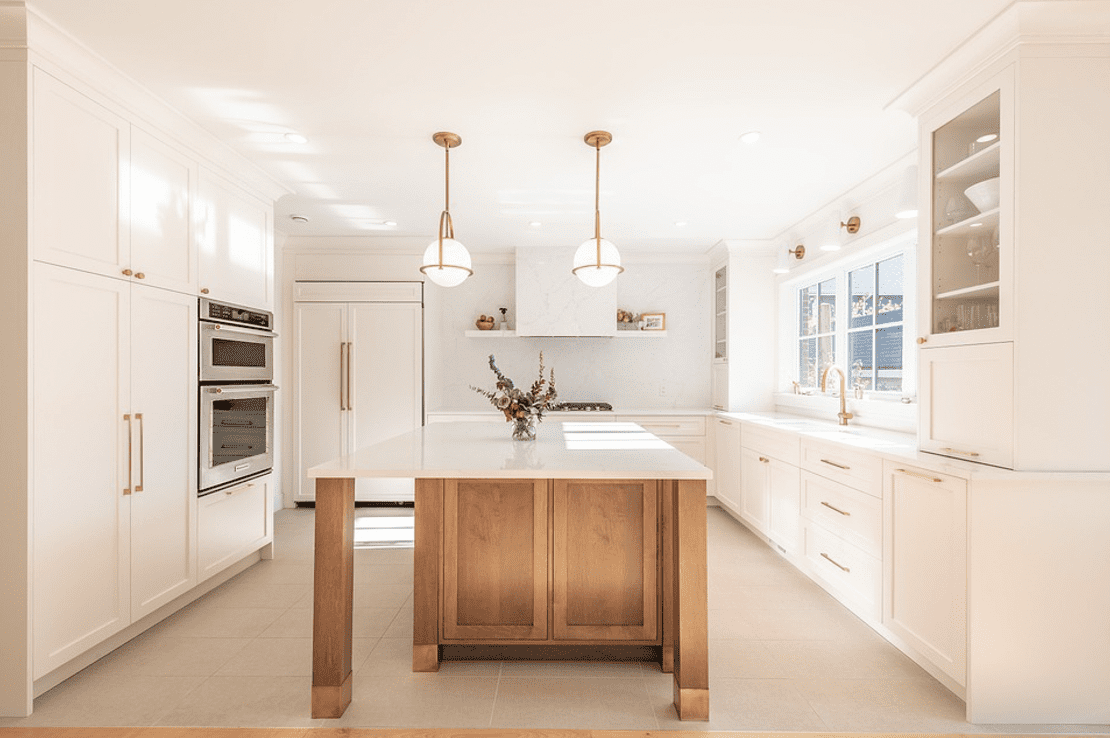 Metallic accents in a neutral-toned kitchen help brighten up the space and add a touch of contemporary sophistication. Use of burnished gold helps give the kitchen "the midas touch" without it becoming too flashy – while the wood panelling used on the island helps to create contrast within the room.
12. Charmingly Rustic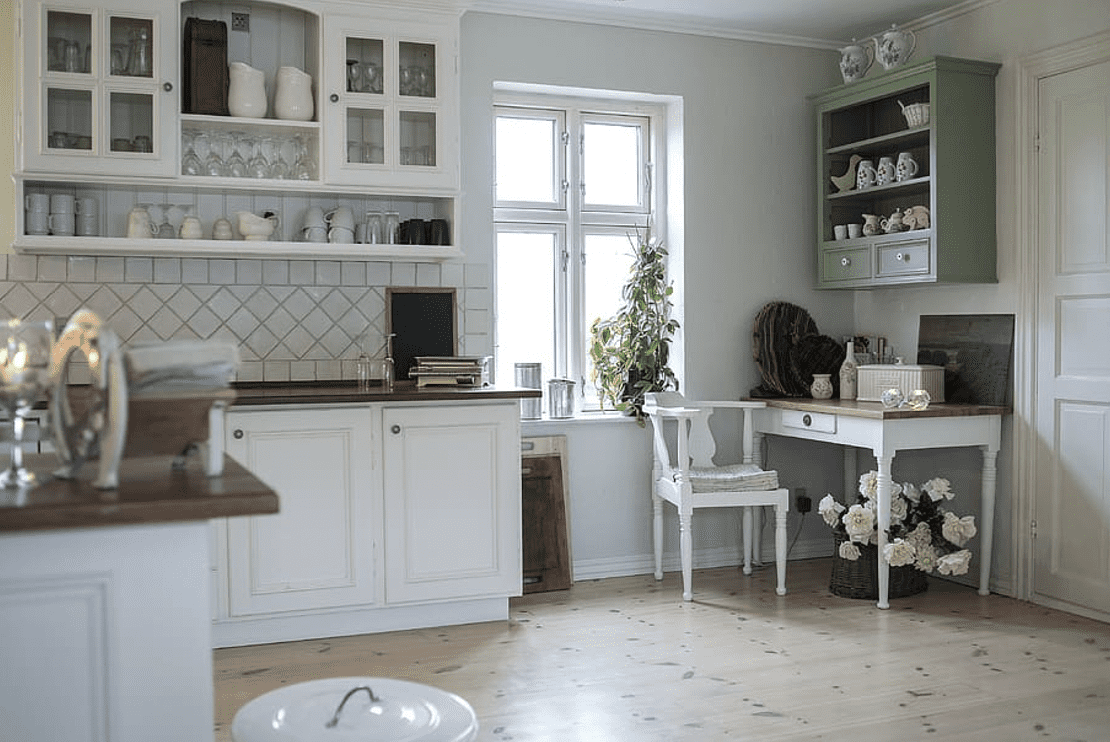 Here, a combination of soft sage, geometric tiling and traditional woodwork helps to create a sweet, country-inspired look that would work particularly well even in a smaller living space. Glass panelling on the cabinets allow you to display your best crockery, while the light colours used throughout help to open up the space and make it appear even more bright and cheery.
L shaped kitchens are not just easy to use, they create a sense of harmony and flow in one of the busiest rooms in your house – so making the most of their clever design is key. They also offer a huge amount of style potential, too – so whatever your desired look is, there are plenty of options to make your L-shaped kitchen look it's best.
If you love these L-shaped kitchen ideas, why not visit our kitchen showroom in Manchester? Our friendly and dedicated team are here to help you find lots of ideas to inspire your next kitchen design and help make the space your very own.