Fitted Kitchen Installation & Design Service for Oldham
Locating the best kitchen design in Oldham for your home is an important task. With our design and installation services, however, it need not be a difficult one.
We believe that all fitted kitchens in Oldham should be not only practical and beautiful, but also reflect the personality of those who use it every-day. And as the kitchen continues to become the nerve centre of the modern home, many Oldham residents will be looking to revolutionise their kitchen by seeking a redesign.
So, whether you are looking for a contemporary or traditional bespoke fitted kitchen in Oldham with cutting edge technology or classic features, Ramsbottom Kitchens has it all.
Your Local Service For A Fitted Kitchen In Oldham - £10 Deposit Only
Here at Ramsbottom Kitchens, we are thrilled to provide a completely FREE, personalised design and quotation service for anyone seeking fitted kitchens in Oldham.
We treat our customers to an unforgettable and informative experience when looking at a new and exciting fitted kitchen design in Oldham, rather than pressing them with a hard sell. We are confident that you will be completely satisfied with our offerings.
If you do opt for us, a small deposit of £10 is all we require (for projects up to the value of £15,000). This will give you some much-needed peace of mind in the knowledge that the rest of your money is safe until the actual delivery of your new bespoke kitchen in Oldham.
Quality Brands For Fitted Kitchens In Oldham
Having a beautiful fitted kitchen in Oldham is wonderful – but it will always fail to satisfy if it doesn't allow you to be productive when you make yourself a wholesome home-cooked meal. So whether you choose a modern kitchen, traditional kitchen, handleless kitchen or a shaker kitchen, you want to make sure it is full of the latest technology.
For over 20 years, we have dedicated our time and resources to providing state-of-the-art quality through our brand partnerships and product offers. Two of our biggest and most well-known partners are NEFF appliances and Sheraton Kitchens, who are both held in high regard within the areas of appliances and kitchens in Oldham respectively. We even offer Neff HomeConnect – allowing you to control your oven from your mobile phone.
As the kitchen industry continues to facilitate the emergence of new ground-breaking products, Ramsbottom Kitchens has remained on that same cutting edge. Recent additions such as Quooker taps – which now offer boiling, filtered and sparkling water, Silestone Worktops, and Dekton Worktops from Cosentino UK further add to our distinguished portfolio of fantastic kitchen design in Oldham.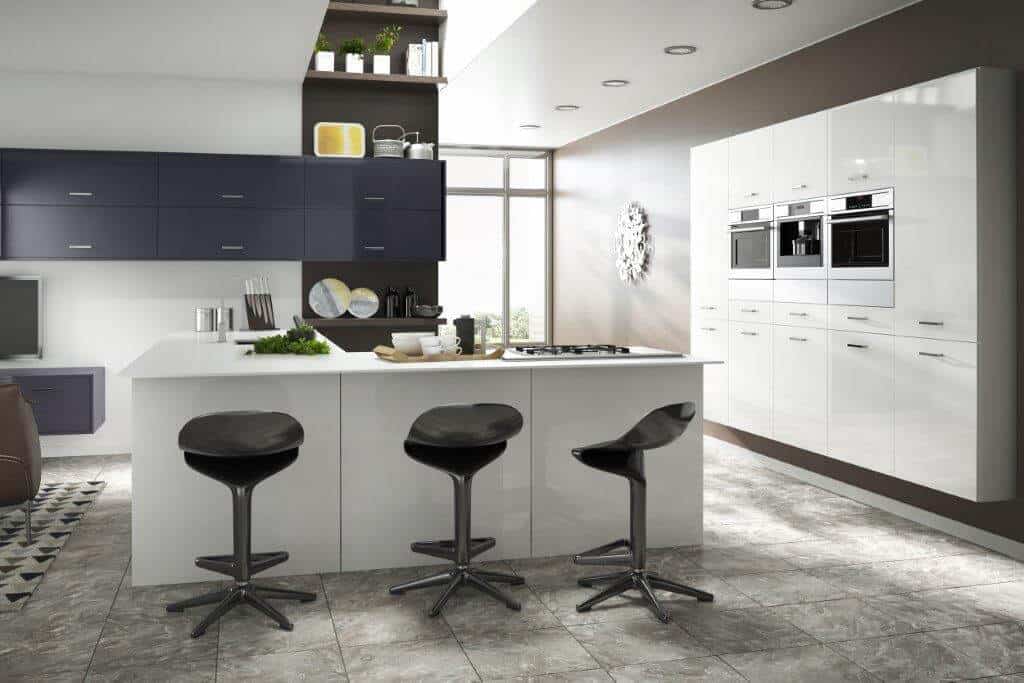 STEP ONE:
Take a trip to our showroom to look at what we have to offer for your kitchen design in Oldham
STEP TWO:
We will visit your home and take the necessary measurements and discuss your ideas
STEP THREE:
Visit our showroom to finalise the design for your fitted kitchen in Oldham and receive a quote
STEP FOUR:
We take a £10 deposit, and then complete your paperwork
STEP FIVE:
Over 4-6 weeks, your new kitchen will be built off-site and we will remove your old kitchen
STEP SIX:
Over 2-3 weeks we will install your new dream kitchen
Expert Installation Of Fitted Kitchens In Oldham
Our installation services for fitted kitchens in Oldham can be altered to fit your own personal needs, be it a small or large project.
We always deliver all of the required units and appliances on time, and can even help our customers to build an extension for their bespoke kitchens in Oldham via one of our trusted external building contacts.
The bulk of our work takes place in the design and installation process. This is where our expert team thrives in helping you to realise your vision.
We work to remove the pre-existing kitchen design in Oldham, complete any electrical work to the set Part P standard, and provide further support to this work with plastering, tiling and further finishing touches.
The Ramsbottom Kitchens installation service is the best you'll find for a kitchen design in Oldham.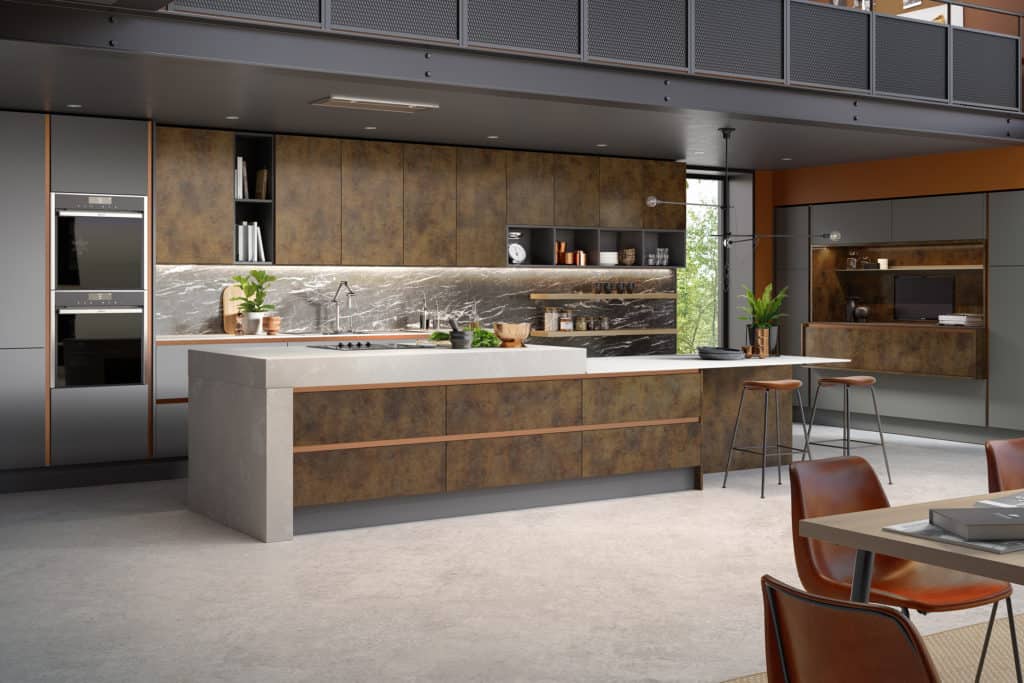 Why Choose Ramsbottom Kitchens
There are various invaluable benefits to working with us if you're looking for bespoke kitchens in Oldham, as opposed to high street showrooms.
When compared to these larger outfits, we provide you with a quality that is hard to surpass. The cabinets for each of our fitted kitchens in Oldham are genuinely 'true rigid', crafted with an effective combination of glue and dowel techniques. Other showrooms do not have access to units that are true rigid.
Each and every one of the cabinet doors we provide is available in a selection of 21 distinctive colours – many bigger chains only offer white. As if that isn't already enough, every one of our 40 different styles of cabinet doors are individually painted and customised with a huge range of handle styles for all our customers – adding a personal touch, distinctive touch to your new kitchen design in Oldham.
To complete the package, we have an expert after-sales team who can manage the entire installation process for you from start-to-finish, ensuring that you are in the loop. This helps us to guarantee you are as satisfied as possible come the end of the project. Ramsbottom Kitchens customers are happy customers.
So, if you're looking for high-quality, bespoke kitchens in Oldham, get in touch with Ramsbottom Kitchens.
Why Choose Us To Build Your Oldham Kitchen?
We believe great customer service is the cornerstone of performance
We believe great communication is the key to creating the perfect kitchen
Our 20 years of experience are always at your disposal
Google Reviews
Fantastic, worked with me, listened to create my dream kitchen- amazing quality and design- I'm very impressed and will recommend to my friends and family.

Samantha Wright


Beautiful showroom products and people! Quality

Eddie Rock


2 weeks ago Ramsbottom Kitchen Company finished our kitchen and it is everything we wanted it to be. It wasn't going to be cheap so we wanted the finish to be the best and they did not disappoint. Our designer, Peter, had to change the design twice because we were uncertain as to what we exactly wanted and in total he produced three sets of drawings. The final draft being what we decided upon. We paid a small deposit and the work started about 8 weeks later. In that time Peter visited our property to check that my measurements were correct (which they were not.!) and thereafter before the installation started, Gary, the Installation Manager, also visited to ensure that everything that we wanted and that the designer had done was capable of being completed. On week one they ripped out the old kitchen and carried out the plastering, electric and plumbing. On the Monday of the 2nd week the new units and appliances were delivered. At that point we made our first payment to the company - no up front cost other than the deposit. We had a kitchen fitter, Christian, who took pride in his work and gave us an excellent installation. During that week when all the units were in place the company fitting the worktops came to measure up. They were fitted just over a week later. Christian was decent enough to come back and fit the kick boards under the units only after I had my floor laid. That was our kitchen completed. There will always be problems with installations and we had some but to their credit they dealt with them all at their cost even though one of the errors was ours. Geraldine is the lady in the office who sorts out all the trades people, plumbing, electricians and plasterer and I would have all of them back into my house as Ramsbottom Kitchen Company only seem to use trustworthy and reliable trades people. She is the lady who was the first port of call for any problems and she always ensured that they were dealt with in a timely fashion. Despite the amount of rubbish that accumulates with kitchen installations it is not an issue because on an almost daily basis Nick will come in his van and remove it all. They told me that they would fit it in a 3 week timescale and they overran by a couple of days, expect it as there will always be issues that will cause the odd delay. We are more than happy with the service and professionalism shown by this company and it's staff and would not hesitate to recommend them to anyone else looking to purchase a new kitchen.

Graham Tomlinson


Amazing job. Everything went to plan. Recommend them anytime.

Jean Hackney


Dave very welcoming and helpful. Just waiting now for our new ovens to be delivered and fitted. Thanks Dave.

Beverley Hamblett


From design to installation the service was excellent and the end result very pleasing. The only negative is customer service this needs to be more professional especially, when the customer has handed over several thousand pounds and they are chasing for little bit of snagging to be addressed.

Peter Bateman