There's just so many good reasons to have a white kitchen: it's clean (in the most literal sense – you'll notice when there's a spillage) and it's also clever – giving the tiniest galley kitchen a bright, spacious appearance.  Above all, it's timeless – so if you're looking to make a commitment, it's a great choice. This guide to white kitchen painting ideas shows how versatile this unassuming shade can be, depending on the type of look you want to create in your kitchen. A classic colour scheme calls for classic styling, so up ahead: fifteen white kitchen painting ideas to suit you, whether your timeless look is nostalgic, aesthetic or geographic.
Nostalgic
Nostalgic kitchens reference style elements that have withstood the changing whims of fashion – and that's what makes them timeless.  While it's difficult to establish exactly what gives a particular interior design element  icon status,  it's easy to spot – whether it's a design classic such as an Anglepoise lamp – or a classic striped pattern.
1.   Vintage Charm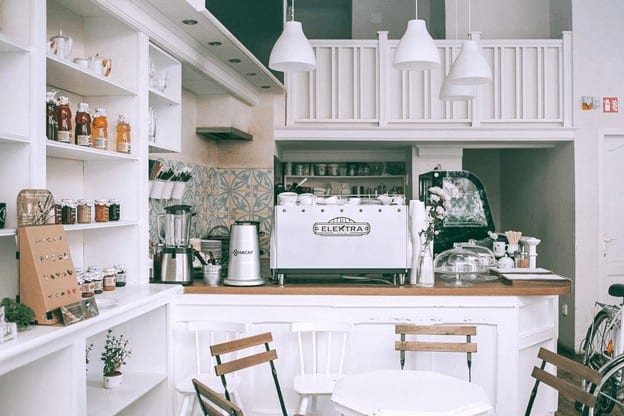 If you live for rummaging through thriftshops for your favourite retro pieces and trying out recipes from your Grandmother's cookbook (possibly while listening to vinyl) – take inspiration from this cosy cafe.  This look isn't decade-specific – so feel free to mix and match decades (as with the dining chairs here) – and avoid any major fire hazards by adding appliances with an old-fashioned appearance and modern wiring ("vintage look" kettles and toasters are pretty easy to find). Open cabinets let you showcase your talent for making jams and preserves, while heirloom crockery gets pride of place on the top shelf.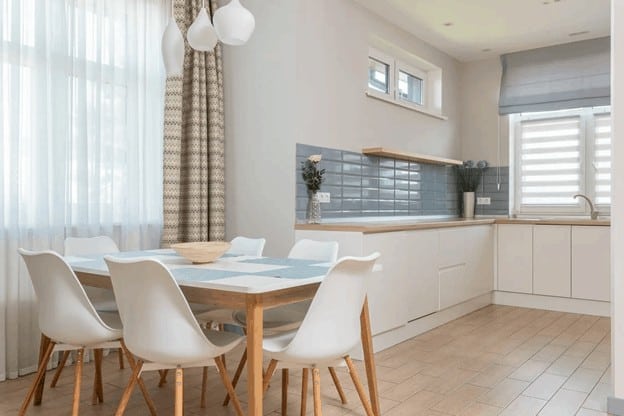 2. Midcentury Modern
Again, this is a non-era specific look: despite the name, the origins of midcentury modern design are tricky to pin down – starting roughly anywhere between the mid-thirties and  sixties. It's a look that occaisonally becomes so prevalent that  people avoid it for a while (hello, maximalism) – but that old timeless appeal always seems to keep them coming back. Think organic curves, clean lines and a winning combination of form and function – such as the Eames-style chairs here. While often associated with understated minimalism, this look isn't shy of colour – here, subdued blue-grey tiling and blinds harmonise beautifully with white – while the varied use of fabrics and other materials add textural contrast.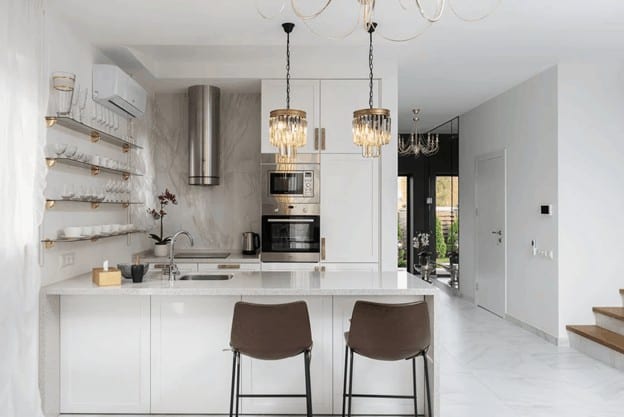 3. Art Deco Bistro
Travel back to the 1920s and 1930s with an art-deco inspired look that gets the balance just so between minimal economy and maximal opulence. In this kitchen, white creates the perfect backdrop for pretty glassware, while gold accents give the space the midas touch. (top tip: try contrasting black, white and metallics for additional drama). This kitchen features not one, but two sets of statement lighting: two chandeliers for the hallway and main space, and two pendulum lights hanging over the breakfast bar. A marble backsplash behind the sink creates added visual interest, while the rest of the look remains pared-back and clean. It's a luxurious style that Gatsby himself  would be proud of – kept grounded by simple features such as the unfussy cabinetry and chrome fixtures and fittings.
4.   Swinging Space Age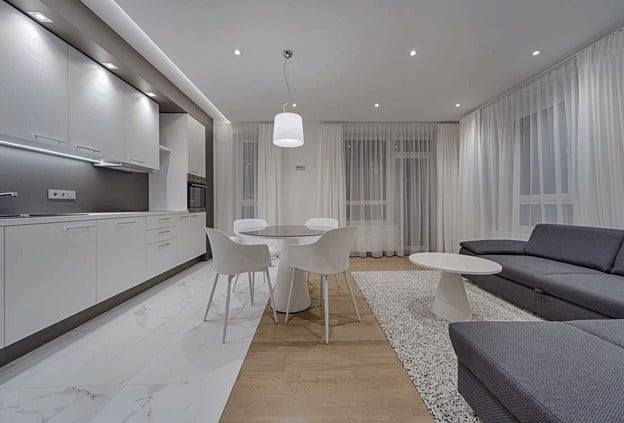 After two decades of economic and social disruption, the advent of space travel in the 1960s was cause for celebration. Interior design reflected this sense of optimism with an idealised, sci-fi version of how space-age design should look: curved white furniture, chrome accents and soft textural elements.  Combination living and kitchen spaces are more popular than ever; here the kitchen blends seamlessly with a seated area for relaxing in, contrasting the stark white of the kitchen cabinets and drawers with textural elements such as the woven slate-grey sofa and a spillage-friendly alternative to the ubiquitous faux-fur shag carpet: a softly woven rug.
5.   Mellow Seventies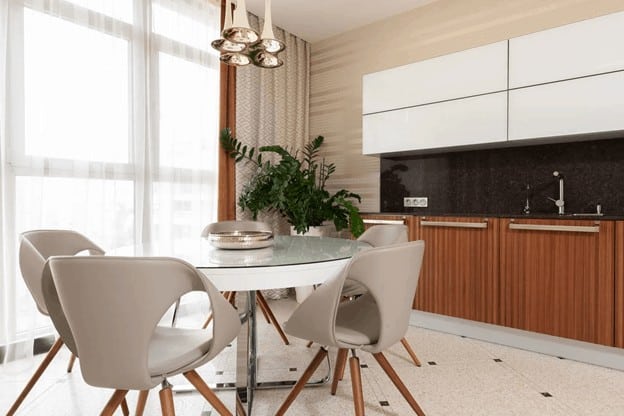 The seventies was once known as the decade that style forgot – yet this kitchen proves otherwise with a subtle nod to the era that gave us funk, punk, disco, rap and glam rock. Here, the white cabinets are contrasted with wood panelling and off-white, curvy retro seating. Note the use of foliage: the seventies was also the decade people went wild for house plants in every room – including the kitchen. Combining sleek, modern design elements with more natural, textural ones (like the wood panelling here) helps to create this laidback look – without a shred of polyester in sight.
Geographic
Sometimes it's not a time,  but a place you want to take inspiration from. White kitchens provide the ideal backdrop, letting your imagination take you wherever in the world you want to go.
6.   A Country Cottage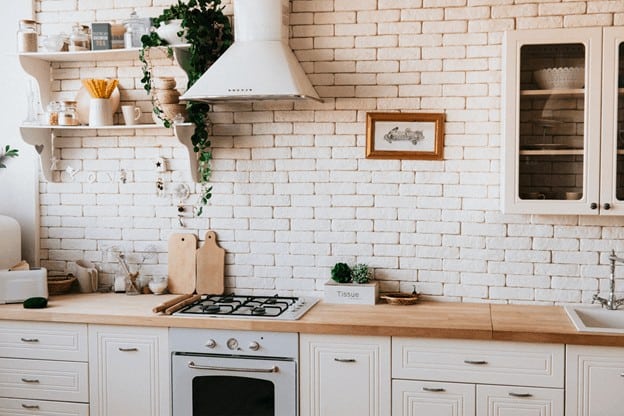 The rustic look is a perennial favourite: here, a classic butler sink and retro fittings are accented  by greenery, with the addition of homespun touches, such as wooden chopping boards, charmingly sweet cookware and framed pictures to give the space a lived-in, cosy feel.  The cabinets here are a departure from the shaker style frequently paired with this look (although these are also another timeless classic) – whileopen brickwork adds a tough edge and prevents the look from becoming overly sacharine.
7.   The Gritty City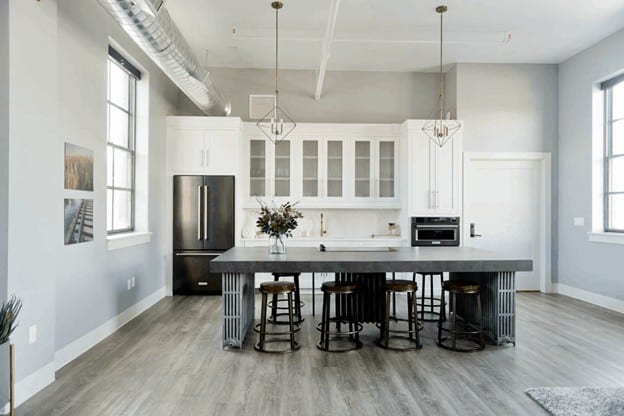 From the countryside, to the city – "the greatest city on earth", to be precise.  Exposed brickwork is a common theme in New York loft-style kitchens – but as seen here,  exposed AC ducts and pipes work just as well. Grey and silver contrast with the white cabinetry and skirting, adding softness and sophistication to this otherwise tough, industrial look. Meanwhile the breakfast bar (built using old-fashioned radiators!) is paired with diner-style stools, making this a subtle homage to loft-style living without going too over the top with the style references.
8.   Beyond the Sea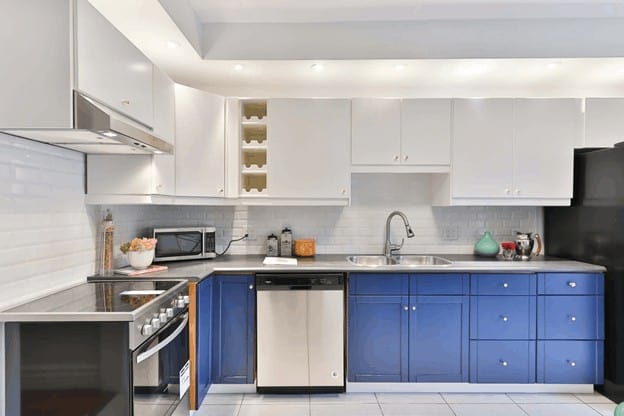 The sea and sky-inspired blue of these painted cabinets pops against thewhite subway tiling, floors and simple cabinets –  it's also reminiscent of loulaki, the blue coloured powder used to decorate old buildings in many Greek destinations such as Mykonos and Santorini. Bright colours look fabulous against white – so if you have a white kitchen like this, playing with the colour of your cabinets offers a relatively quick way to change the overall look of the room. When painting furniture or cabinets with an accent colour like this, allow your chosen hue to shine by keeping everything else simple and uncluttered, as seen here.
9.   A Tropical Paradise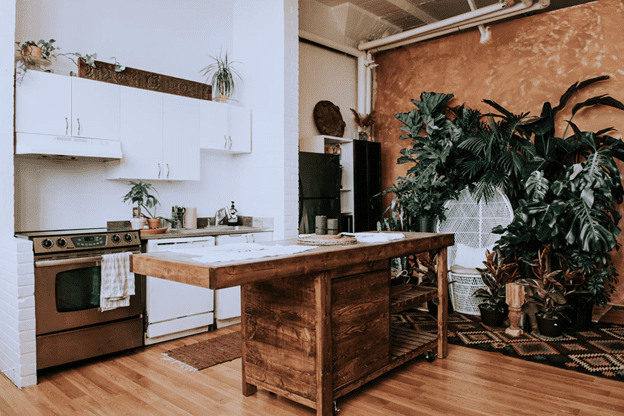 White is frequently used in kitchens the world over – but in warmer climes light colours also reflect heat, making it a favourite shade for kitchens in tropical locales. Regardless of how much it rains, bring the sunshine into your kitchen with lush foliage and weather-worn timber to create a relaxed, exotic feel. Patterned accent rugs are ideal for adding colour and texture to wooden flooring, while materials like cork, bamboo or rattan (also commonly seen in tropical-style decor) add to the relaxed ambiance of the room.  Here, the white walls coordinate beautifully with a white woven arm chair surrounded by glossy, dense greenery, providing the perfect tropical reading nook.
10.   A Round-World Trip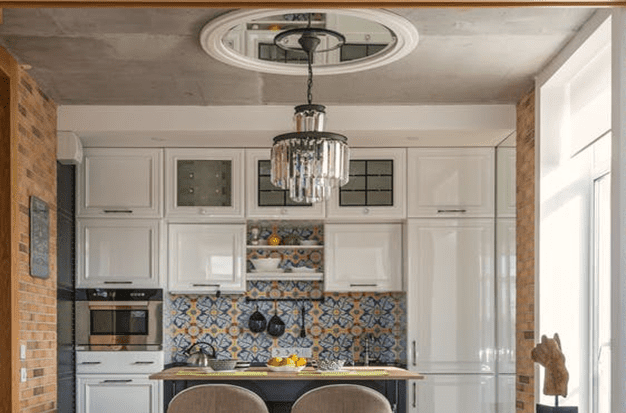 Go global and choose from your favourite locations with this eclectic, bohemian-inspired look.  Glossy white cabinets add a touch of sophistication paired with a stylish yet modern glass pendant lampshade.  Furnishings in neutral tones help to keep everything grounded, providing the ideal backdrop for colourful touches such as this Moroccan-inspired tiled splashback. Keep the rest of the colour palette simple and uniform to avoid the look becoming overcrowded, and to show off aartfully displayed souvenirs and eclectic homeware that will have you dreaming of far-flung destinations.
Aesthetic
Fashion comes and goes, but true style is forever. Choosing a kitchen based on a particular aesthetic is a lovely way to ensure the whole look is cohesive while expressing your own personal taste. Here, a white background really is a canvas you can use to experiment with various interior design elements to create your chosen look, whether that's with space, line, form, colour, texture, pattern or light.
11.   Eclectic colour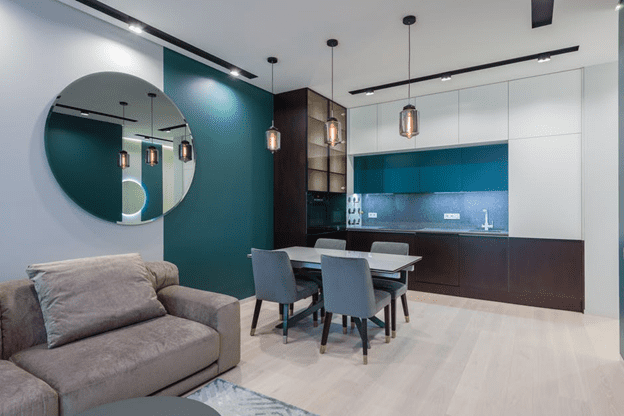 Here, white contrasts perfectly with bold splashes of blue and green – creating a calming, oceanic effect.  A rich shade of teal used on a feature wall offsets the soft blues used on the cabinets and furniture,  while additional contrast in both shape and texture on the soft furnishings and area rug creates a look that is timeless – but never dull.  With bold colour contrasts like this, keep the look minimal so that you can experiment with shape and proportion – this adds a sense of fun and playfulness to the room while ensuring the look of the room remains sophisticated.
12.   Japandi Cool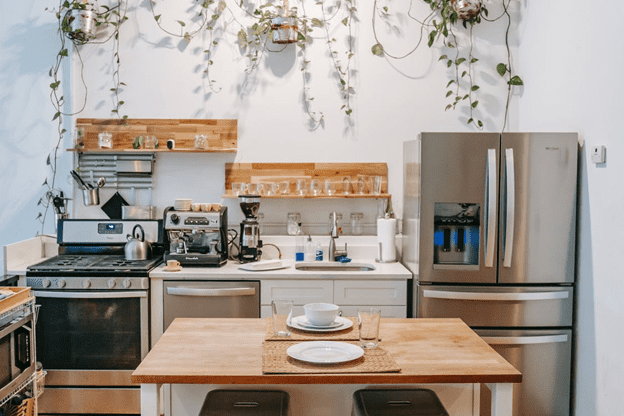 Somewhere between Scandinavian and Japanese minimalism lies Japandi – a hybrid aesthetic that marries together  the two styles perfectly. While frequently touted as a trend, it's been around for a few years and shows no sign of abating yet. Sleek Japanese design elements and darker colours contrast with Nordic neutrals and rustic finishes to produce a modern, yet cosy effect . Plants bring nature and a sense of tranquility into the kitchen, as with these vines draped elegantly over a suspended beam. In true wabi-sabi style, this is a look that demonstrates the beauty in the imperfect, disproving the theory that white kitchens have to look polished and flawless.
13.   Minimalism to the Max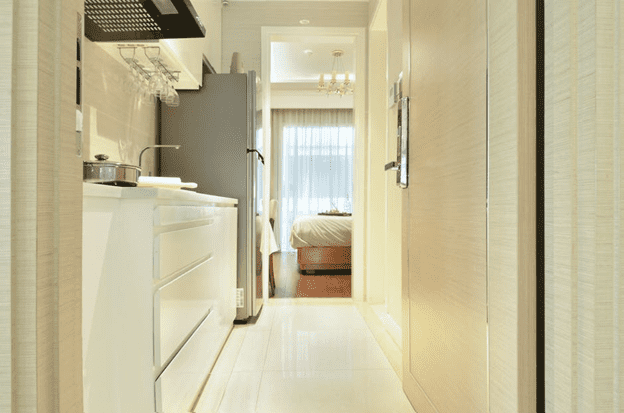 Minimalism really comes into its own in smaller spaces like this galley kitchen here, leading through to the bedroom beyond (not far to walk for a morning coffee). Cabinets are kept handle-free to maintain an unobtrusively clean look, while a subtle tonal interplay between ecru and bright white creates an effortlessly chic, spacious look that's big on style, even when you're short on space. Experimenting with various shades of white adds visual interest to a room without compromising on a sense of space and light – so skip boring magnolia and stark bright white and take a look at other off-white hues that are anything but vanilla: in the kitchen, opt for white with a smoky grey tone for a cool, understated look, or choose a shade with buttery undertones to make your kitchen appear warm and sunny.
14.   Luxe Looks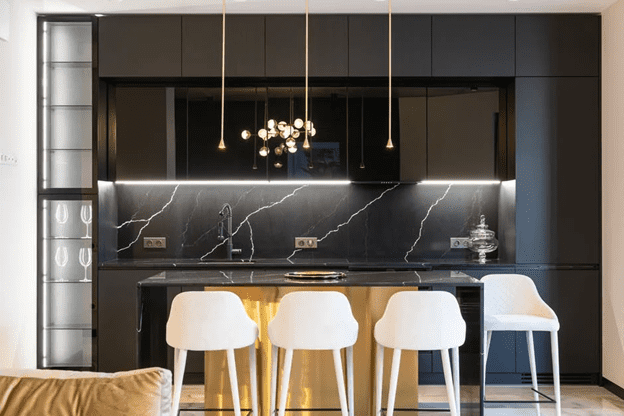 Black, white and metallics create a dramatic look in this kitchen. While navy and black is traditionally frowned upon as a pairing, this designer ripped up the rulebook, contrasting the glossy black of the cabinets with a moody navy matte colour. Deeper blues look stunning against gilded accents, like the fine statement lighting and the unit under the table, while comfortable white chairs elevate the look and keep it from becoming too decadent.
15.   Future Perfect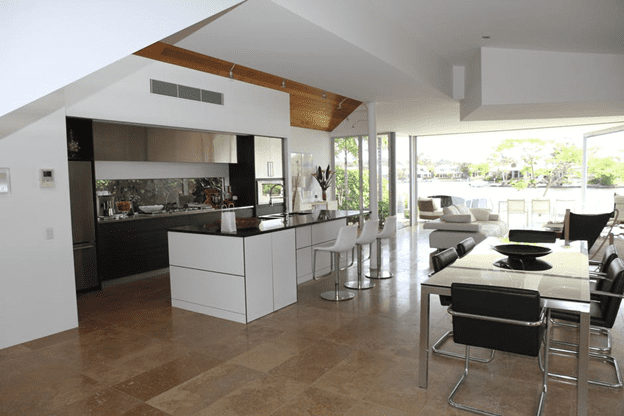 Sometimes the architecture of a home can help define its decor – as with the angular ceiling in this kitchen here. Not to be confused with the sixties space-age look, this is futuristic styling for the modern age; one that pares key design elements down to their bare essentials: the bright white backdrop offering that sense of space while soaring angular lines suggest positivity and forward-thinking.  It's one for the minimalists, too – with clever storage to hide any items that could disrupt the flow of the room. Meanwhile, glass and mirror-finish chrome contrast beautifully with the stone flooring and wooden elements to keep the look from becoming too clinical.
White kitchen painting ideas are really more about how you style them than the colour itself. White isn't just a timeless classic colour – it's a canvas that allows you to create your own unique look .
Would you like to remodel you galley kitchen? With a free design and only a £10 deposit for any project, Ramsbottom Kitchens have been designing and building stunning kitchens for 30 years across the Northwest including Manchester, Bolton, Blackpool, Preston and many more. Why not visit our 15,000ft Showroom in Bury and talk to our friendly staff for more ideas?