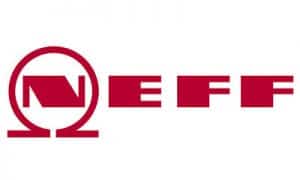 NEFF Ovens & Kitchen Appliances
The kitchen really is the heart of the home and if you want appliances that will completely transform this space into the modern, digital haven you're looking for, then you're in the right place. Neff appliances are innovative and creative, they'll make your kitchen something much more than a place to cook.
Neff has been filling British kitchens with amazing appliances for more than 40 years. They're intended to completely transform the way you use your kitchen.
Whether you're looking for a new fridge, extractor fan, dishwasher or the beautiful Slide & Hide oven range, our range of Neff appliance will look the part and work hard so that you can make it look easy.
Rather than being hidden away in a corner, the Neff Slide & Hide oven range will make your oven the focal point of your kitchen. With a door that disappears under the oven when you open it, all of your kitchen experiments will become so much easier.
Let's be honest, an extractor fan never used to look like much in the kitchen. In fact, they really weren't attractive. Well this is no longer the case. Now, Neff extractor fans really are a thing of beauty. They're not only a practical accessory, they're also a beautiful talking point that your family
and guests will love.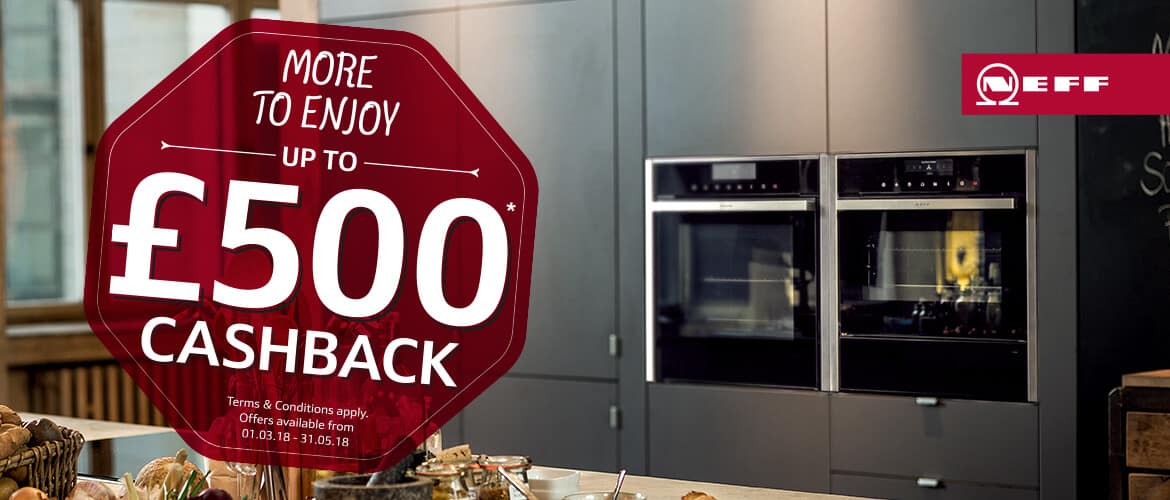 Our exclusive promotion, in partnership with our good friends at NEFF, sees you our customers able to pocket £500 cashback when purchasing selected NEFF products as part of their overall package with Ramsbottom Kitchens.
As part of your kitchen purchase with ourselves, if you choose to buy one of a few select NEFF ovens alongside 4 other NEFF products (not including accessories or warming drawers), you can claim up to £500 cashback dependent on the products purchased.
NEFF are the UK's leading manufacturer and provider of quality built-in kitchen appliances. Ovens, hobs, microwaves, dishwashers, extractors, fridges, freezers, drawers, washing machines, a plethora of assorted accessories and even built-in coffee machines – NEFF does it all!
This once-in-a-lifetime promotion gives you the chance to obtain some of the highest quality kitchen appliances & accessories whilst also making a massive saving and keeping some money for yourself.
You could put it towards something else for your kitchen, more NEFF products perhaps, or even save it for a rainy day. Either way, you can't afford to miss out on the hottest deal of the year courtesy of Ramsbottom Kitchens and NEFF. Together, we are cooking up something special just for you.
NEFF promotional offer runs March 1st – May 31st 2018.
How to Claim
The consumer has until the 30th November 2018 to claim their cashback. To clarify, although you must purchase their kitchen by the 31st May 2018, the NEFF appliances can be delivered and installed beyond this date providing you make your claim by midnight on 30th November 2018.
To claim the cashback, you must fully complete the online Claim Form (including product E-nr and FD numbers and consumer reference number) which is available at www.neffpromotions.co.uk or telephone the freephone helpline on 0333 0030874.
A copy of the original purchase receipt, which itemises the 4 NEFF appliances and proves that the appliances were purchased as part of an overall kitchen purchase, including the kitchen furniture and from the same retailer, must be uploaded as part of the claim.
If you'd like to find out more about Neff kitchen appliances, take a look at our extensive range.