Kitchens Bury, Greater Manchester
Design and Installation Of Fitted Kitchens In Bury
Finding the right fitted kitchen design in Bury for your home is an important endeavour, but it needn't be a difficult one.
In the 21st Century the kitchen is still very much at the heart of everything in the home, and the majority of Bury residents find themselves looking for something fashionable yet warm and inviting. Of course, people also look for contemporary lines and finishes, cutting edge technology with an overall modern feel. Luckily for you, Ramsbottom Kitchens offers all that and more.
Your Local Service - Kitchens Bury
Ramsbottom Kitchens offer a free-of-charge personalised design and quote service for every customer we serve in Bury – but don't worry, we never pressure customers to buy.
We prefer to treat our customers to an informative kitchen experience, rather than them feeling as if they are on the receiving end of a hard sell. And that's why we are confident that you will be satisfied with the possibilities for your kitchen design in Bury.
If you do decide to order a modern kitchen, traditional kitchen, handleless kitchen or a shaker kitchen from us, a deposit of £10 is all we ask for. This small offering allows you to relax, safe in the knowledge that your payment money is only due when we deliver your kitchen design in Bury.
High End Kitchen Brands For Bespoke Kitchens In Bury
For more than two decades we have dedicated ourselves to sourcing only the highest quality products for our kitchen designs in Bury.
Two of our largest and most well-respected partners are Sheraton Kitchens and NEFF Appliances, who are recognised across the industry for the quality products they make such as the Neff Slide and Hide and Vented Induction Hobs.
As the kitchen industry is exposed to new, state-of-the-art brands and products, Ramsbottom Kitchens has remained on the cutting edge of kitchen accessories and technology by adding Silestone Worktops and the Quooker premium tap range – that provides boiling, filtered and sparkling water – to our portfolio. There's no kitchen supplier in Bury with one foot more firmly rooted in the future than Ramsbottom Kitchens.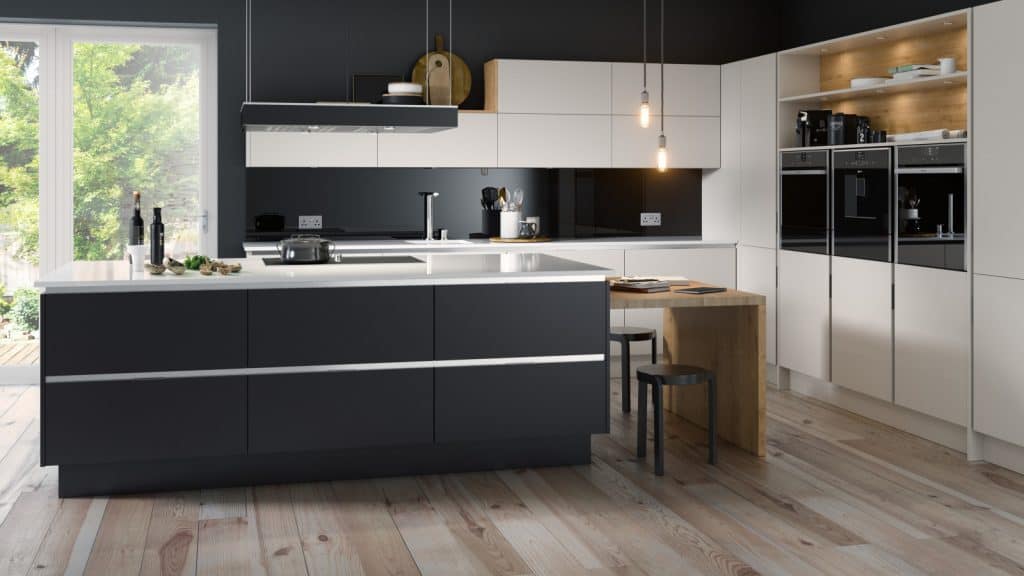 Our Process
STEP ONE:
You visit our showroom and discuss ideas with our helpful staff
STEP TWO:
We visit you at home in order to take measurements and discuss ideas
STEP ONE:
We present you with the final design at our showroom, take feedback and provide a quote
STEP FOUR:
One the £10 deposit is made, the paperwork will be completed
STEP FIVE:
Over the next 4-6 weeks, we will build your new kitchen off-site while your old one is removed
STEP SIX:
We install your new kitchen over the course of 2-3 weeks
Professional Installation Of Kitchens In Bury - Only £10 Deposit Required
The installation services we provide can be adapted to suit your personal needs, whether it is a large or small undertaking.
We are even able to help you build an extension for your new fitted kitchen in Bury via a trusted third party builder, or we can simply deliver all of your required units and items.
The majority of our work takes place in the design and installation stage, as we take steps to replace your pre-existing kitchen.
For this purpose we would remove your current kitchen, undertake all electrical work to the set Part P standard, and further support this work through plastering, tiling and any finishing touches.
Our installation service is the friendliest and best you'll find across Bury and the surrounding areas.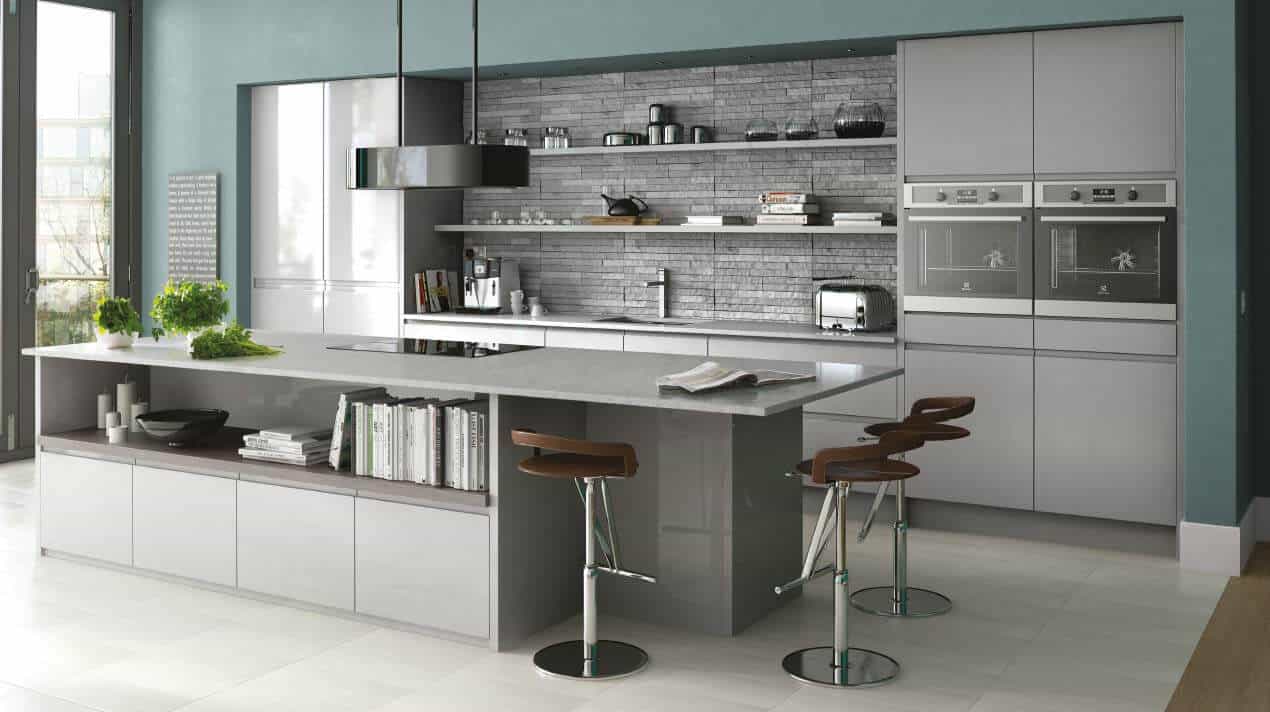 Why Choose Ramsbottom Kitchens?
The benefits to working with Ramsbottom Kitchens as opposed to other high street showrooms in Bury are numerous.
In comparison to those larger companies, we offer cabinets with each fitted kitchens that are genuinely 'true rigid', made with a mix of both glue and dowel techniques. Other showrooms, on the other hand, do not offer the true rigid units and the quality they possess.
Additionally, we have more than 40 styles of different cabinet doors, and they are available in 21 colours – not just white, unlike many of the larger chain companies. Each door is separately painted for our customer's kitchens – providing a personal touch that that we feel helps us to rise above other kitchen designers in Bury.
To top it all off, we boast an expert after-sales squad who can manage the installation process for you, whilst keeping you continuously up to date of the working plan. This will help to ensure that you are truly satisfied once the project is complete.
Why Choose Us For Your Fitted Kitchen In Bury?
We are renowned for our excellent customer care and service
We will always keep you up-to-date and informed throughout the process
We will use our 20 years of experience to bring your dream kitchen to life
Google Reviews
From design to installation the service was excellent and the end result very pleasing. The only negative is customer service this needs to be more professional especially, when the customer has handed over several thousand pounds and they are chasing for little bit of snagging to be addressed.

Peter Bateman


Ramsbottom Kitchens did an outstanding job from design to fitting. I was dreading the rip out day but there was no need to worry everything went as planned with no issues at all .Tradesmen, Kitchen units and appliances arrived in a scheduled order and the kitchen was completed on time. All the tradesmen from plasterer to plumber, electricians to fitters did an excellent job and were always very punctual, polite and courteous. I am extremely pleased with my new kitchen and would have no hesitation to recommend this company to anyone thinking of buying a new kitchen .

Susan Adams


Ramsbottom kitchens as done an absolutely amazing job from the very start to the end... definitely recommend them ...the quality of the kitchen and worktops is amazing... so glad we went here for our kitchen as other places we looked at first were no where near as good as these .. thank you so much to each and everyone of you for all the work you've done, our kitchen looks amazing and we absolutely love it and it will last us many many years

sandra clough


Beautiful showroom products and people! Quality

Eddie Rock


Dave very welcoming and helpful. Just waiting now for our new ovens to be delivered and fitted. Thanks Dave.

Beverley Hamblett


Fantastic, worked with me, listened to create my dream kitchen- amazing quality and design- I'm very impressed and will recommend to my friends and family.

Samantha Wright