Light, DarK or Somewhere Inbetween
From cabinets, to tiles to flooring, there is a lot of choices to make around kitchen colour.  Depending on what feel you want to have for your kitchen, it will influence what decisions to make.  Here is a quick bit of advice:
CABINETS
The general rule of thumb is to pick your cabinet colour first as this takes up approximately 40% of the visual space in your kitchen.  This will help to guide you in subsequent colour choices you make for other items in your new kitchen.
WALL COLOUR
This helps to bind all your colour choices together so that it all comes together nicely.  If you are goin bold with the cabinet or floor colour choice, then a calmer wall colour choice can offset them to achieve balance in the room.
APPLIANCE COLOURS
If your appliances will be visible in your kitchen then it is worth having a think about what will look good with the colour of cabinets that you have chosen.
The fridge, dishwasher and sink have a big influence on the look and feel of your kitchen.  If you are thinking of a steel look, then it goes well with greys and bright colours.  If you are thinking of white appliances, then white or grey cabinet colours would go well.
HARDWARE
From cabinet handles to lighting fixtures, these are the final dashes of design that makes a difference. This is often down to personal choice, just keep in mind all the colours you have chosen so far and pick hardware to suit.
COUNTERTOPS
These tend to take up a lot of kitchen real eastate with what the eye can see and therefore should compliment the cabinet colour.
FLOORING
In many homes there will need to be colour flow between any rooms that lead into a kitchen.  This can influence what colour is chosen for the floor. As your cabinets are the main colour choise for your kitchen, the floor should be the second dominant colour.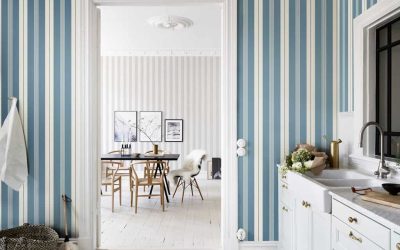 There's something timeless about a white kitchen (they can be surprisingly versatile too) - but if you're looking for something a little more elaborate, why not consider one of the many kitchen wallpaper ideas available? Recently, wallpaper has seen something of a...
View our range to get ideas!
Contact Us

For a no obligation chat!
Alternatively call us on 01706 826 557 or visit our showroom. Please note we can only supply individual kitchen items to existing customers.