Ribble Valley & Blackburn Kitchens, Lancashire
Enjoy A Professional Kitchen Design In Ribble Valley & Blackburn
Settling on a choice of fitted kitchen for Ribble Valley homes and the surrounding Blackburn area is a decision that comes with challenges, but that doesn't mean it has to be a struggle.
As the kitchen becomes more important in society as the new heart of the home, people from across Blackburn & Ribble Valley will be searching for kitchens that are in-style but also comfortable and practical.
On top of this, whether they desire a modern kitchen, traditional kitchen, handleless kitchen or shaker kitchen, people are also looking for kitchens with newer elements too, such as the latest technology and modern finishes.
Ramsbottom Kitchens offer everything detailed above and a lot more.
A Local Service For Kitchen Design In The Ribble Valley Area
At Ramsbottom Kitchens we take pride in the personalised quoting and design service we provide, which also happens for be completely FREE for every customer living in the Ribble Valley or Blackburn.
Regardless of this, we never attempt to force our potential customers into any purchasing decisions. We never attempt a hard sell, as in our eyes an overall experience that is both informative and pleasant is of much greater benefit to both ourselves and our customers.
It is thanks to these attitudes that we have great confidence in our ability to offer you what you need and complete any kitchen design in Ribble Valley to your complete satisfaction.
If you do opt to go with ourselves for your next fitted kitchen, we will require a deposit of just £10. The purpose of this is to put your own mind at ease, as it ensures that both the order and your money will be safe until the delivery of your new kitchen design in the Ribble Valley.
Leading Kitchen Brands For Your Kitchen Design In Blackburn & The Ribble Valley
For over two decades we have taken great pride in our partnering with prestigious brands and their cutting-edge product lines.
Two of the biggest names we work with, Neff Appliances and Sheraton Kitchens, are each held in high regard across the kitchen design industry, allowing us to provide our customers with fantastic gadgets such as the Neff Slide and Hide Vented Induction Hobs.
As the industry continues to grow and evolve, Ramsbottom Kitchens have continued to lead the way with kitchen technology through the introduction of Silestone Worktops & Dekton Worktops from Cosentino UK and Quooker premium taps which offer boiling, filtered and sparkling water.
No other Blackburn kitchen fitter has one foot set firmly in the future quite like Ramsbottom Kitchens.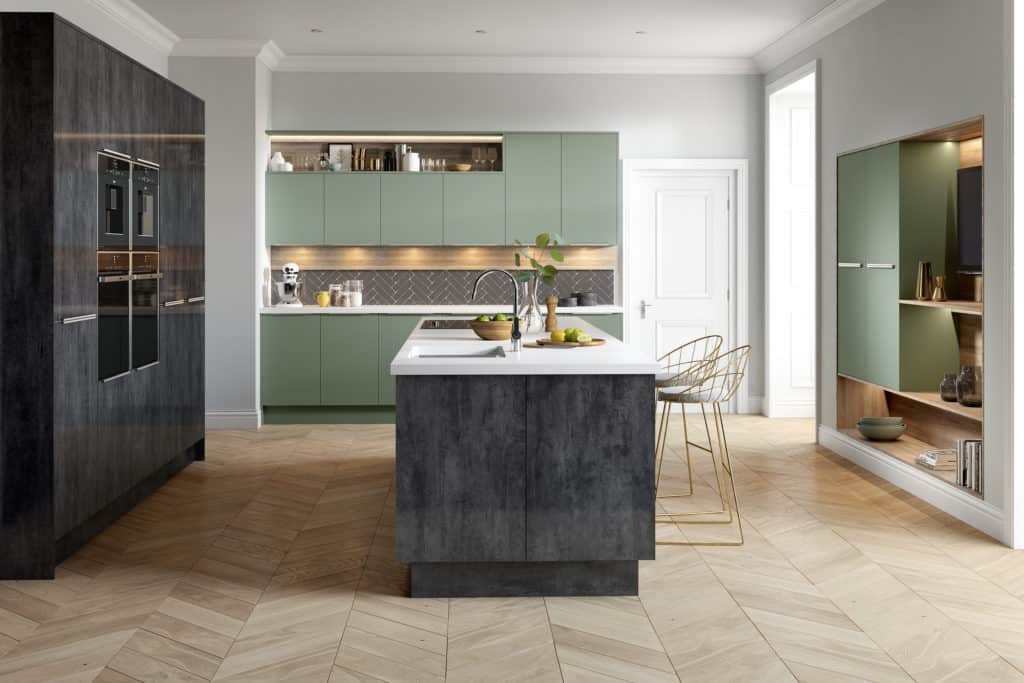 STEP ONE:
You visit our showroom to see our range and discuss the possibilities for your kitchen design in Blackburn
STEP TWO:
We will visit your home to take measurements and discuss your options for your kitchen design in the Ribble Valley further
STEP THREE:
We show you our design at our showroom, take any feedback for your kitchen design in the Ribble Valley and agree on a quote
Professional Kitchen Fitters - Only £10 Deposit Required
One of the leading benefits for our customers is our enviable kitchen fitting service, which is completely adaptable and flexible to fit the needs of each individual project and customer.
We are also available to assist in the construction of an extension by using a trusted third party builder, or as an alternative we can deliver all units and items to your door whenever necessary.
Most of our work takes place during design and installation, at which time we get rid of your previous kitchen and complete all electrical work and any further jobs such as tiling, plastering and anything else that needs boxing off.
We believe our fitting service is of the best quality you will find anywhere across Blackburn and the Ribble Valley.
We only require £10 deposit on projects up to the value of £15,000.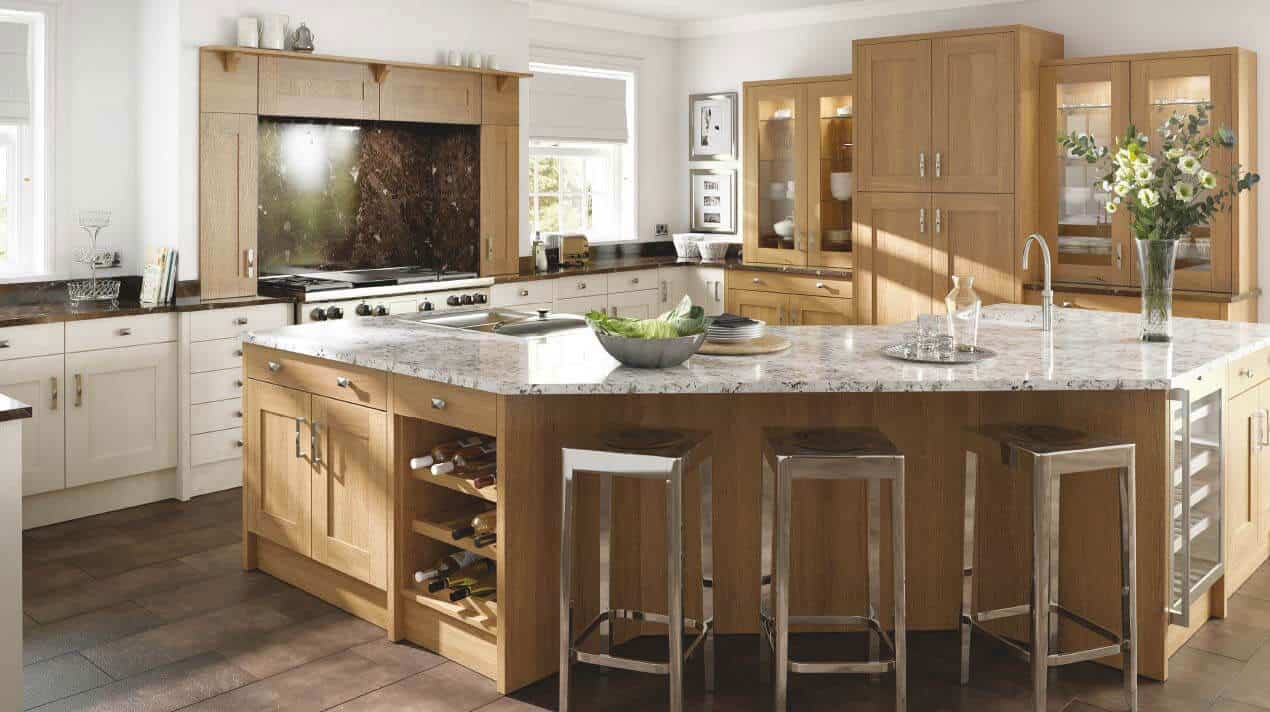 Why Choose Ramsbottom Kitchens?
Selecting Ramsbottom Kitchens instead of other kitchen showrooms in Blackburn will benefit you for a variety of reasons. In comparison to bigger outlets, we never allow quality to become anything less than our top priority.
As an example, we provide cabinets that are 100% 'true rigid', constructed through a mixture of dowel and glue techniques.
Most other kitchen showrooms in Blackburn and Ribble Valley can't offer you the unmatched quality of true rigid units.
As well as this, every cabinet door we provide comes in a choice of 21 colours, whilst larger chains tend to only do white. Furthermore, all of our 40 different styles of cabinet doors are individually painted for our loyal customers in the Blackburn area – with a fantastic selection of handles to compliment them.
Once you decide to purchase with us, you will be contacted by our in-house team of professionals who provide the best after sales support you will find anywhere in the area.
This team will control the whole process, so you don't have to, whilst keeping an open line of communication with yourself throughout any kitchen project. This often leads to happy, in-the-know customers throughout the whole process.
Why Choose Us For Your Blackburn & Ribble Valley Kitchen?
We set ourselves apart from the competition thanks to our unrivalled customer care
We enjoy keeping an consistent, open line of communication with all of our clients
With our 20 years of experience, you can be sure that you'll get the kitchen you desire
Google Reviews
Ramsbottom kitchens as done an absolutely amazing job from the very start to the end... definitely recommend them ...the quality of the kitchen and worktops is amazing... so glad we went here for our kitchen as other places we looked at first were no where near as good as these .. thank you so much to each and everyone of you for all the work you've done, our kitchen looks amazing and we absolutely love it and it will last us many many years

sandra clough


Ramsbottom Kitchens did an outstanding job from design to fitting. I was dreading the rip out day but there was no need to worry everything went as planned with no issues at all .Tradesmen, Kitchen units and appliances arrived in a scheduled order and the kitchen was completed on time. All the tradesmen from plasterer to plumber, electricians to fitters did an excellent job and were always very punctual, polite and courteous. I am extremely pleased with my new kitchen and would have no hesitation to recommend this company to anyone thinking of buying a new kitchen .

Susan Adams


Whilst l was dreading the ripping out of the old and installation of a new kitchen l needn't have worried. From starting with the design to finishing with minor snagging the experience could not have been better. The sub contractors supplied by Ramsbottom kitchens performed to a high standard and turned up when scheduled. Must make a special mention of Steve the fitter. Very methodical approach which resulted in a high standard of installation. The good experience was rounded off by the assistance provided by the administration team at head office. Kept in touch throughout the process and always willing to assist. Good value for money.

Fred Robinson


From design to installation the service was excellent and the end result very pleasing. The only negative is customer service this needs to be more professional especially, when the customer has handed over several thousand pounds and they are chasing for little bit of snagging to be addressed.

Peter Bateman


Superb quality kitchens, friendly & helpful staff, excellent fitters

Erna Brickell


Beautiful showroom products and people! Quality

Eddie Rock