Fitted Kitchens Prestwich
Our Local Service for Prestwich Kitchens
Deciding on a fitted kitchen for a modern home in Prestwich is a meaningful pursuit for any home-owner. But it shouldn't have to be a struggle to get there.
Due to many modern-day changes, we believe that Prestwich residents are always on the lookout for fully fitted kitchens with traditional or modern colour schemes, the newest technology and the latest contemporary finishes.
Ramsbottom Kitchens can provide all of this and more across the Prestwich area. Get In touch with our showroom today on 01706 826 557.
Personalised Kitchen Designs
We take pride in our personalised kitchen design and quotation offerings, which we give to all of our Prestwich customers utterly FREE of charge. While we aim to provide our potential customers with everything they require and we never push them into a decision, this ensures that the style chosen – be it a modern kitchen, traditional kitchen, handleless kitchen or shaker kitchen – is perfect for them.
We prefer to provide an experience that is unforgettable and educational for all the right reasons. We don't do the typical 'hard sell', as our selling ethos is based on having complete confidence in our services and our ability to satisfy our customer's demands.
If you do choose to purchase a kitchen, we ask for just a small deposit of £10. This will give you peace of mind that your order and money are safe until the point of delivery.
Prestigious Kitchen Brands
We have held significant partnerships with well-respected brands and their cutting-edge products for over two decades.
The three largest brands we currently work alongside are Neff Appliances, Sheraton Kitchens and Dekton Worktops from Cosentino UK. All are well respected and held in high esteem across the kitchen design industry.
As these big names continue to develop the latest exciting products, Ramsbottom Kitchens has remained ahead of the curve with Rangemaster cookers, stunning Sensio Lighting and Neff HomeConnect, which allows you to control your oven from your mobile phone.
We are the only kitchen supplier in the Prestwich area who keep one eye on the future of the kitchen world.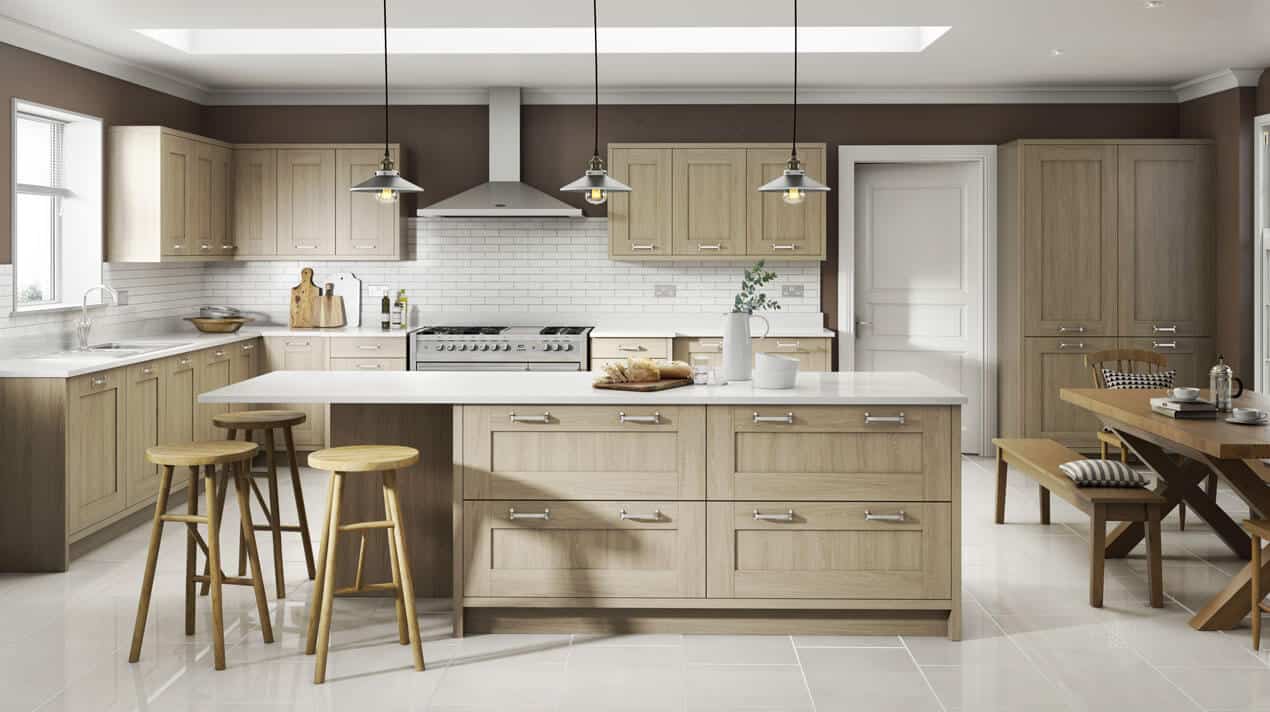 STEP ONE:
Take a trip to our showroom, browse our extensive range and talk to our staff
STEP TWO:
We'll come to your home to take some measurements and discuss ideas
STEP THREE:
We review the final design with you at our showroom and provide a quote
STEP FOUR:
Pay our small £10 deposit, and then we'll finalise the paperwork
STEP FIVE:
Over 4-6 weeks, we will build your kitchen off-site, and remove your existing one
STEP SIX:
Over approximately 1-3 weeks, we will install your brand new kitchen
Professional Installation
We are happy to provide an installation service that fits you best, be it as part of a small or more extensive project.
We're always here to help during an extension through a trusted third-party builder if needed, or alternatively, we can deliver all the units directly to you whenever you desire.
The work we do will cover the kitchen design and fitting stages, at which point we will clear out your previous kitchen, deal with any electrical work and add further touches such as tiling, plastering and more.
We believe that you won't find a more comprehensive kitchen fitting service anywhere in Prestwich.
Why Choose Us
Choosing Ramsbottom kitchens over any alternative kitchen showroom in Prestwich is hugely beneficial for numerous reasons.
Firstly, in comparison to large chains, we will never compromise on quality. For example, we provide 100% 'true rigid' cabinets, crafted to perfection through a dual technique of glue and dowel.  This is unmatched within Prestwich; no other showroom can provide you with this superior quality of true rigid options.
Moreover, our cabinet doors are available in a selection of 21 colours, in comparison to other more prominent outlets who can offer only white. And just to make the personalisation options even more attractive, every one of our 40 styles of cabinet doors are individually painted for our customers, who are also given a wide range of handles to choose from.
That's not all. We have a unique in-house after-sales team to handle the entire process for your project, keeping an open line of communication between business and customer. This helps us to keep you, as a client, well informed and satisfied with the results of the project.
Choose Ramsbottom kitchens today and receive the benefits of a professional kitchen fitting outfit who stand beside you every step of the way.
Why Choose Us For Your Prestwich Kitchen?
Our dedication to fantastic customer service is second to none
We believe in keeping consistent communication with all of our clients
We are proud to use our 20 years of experience to help realise your dream
Google Reviews
Superb quality kitchens, friendly & helpful staff, excellent fitters

Erna Brickell


From design to installation the service was excellent and the end result very pleasing. The only negative is customer service this needs to be more professional especially, when the customer has handed over several thousand pounds and they are chasing for little bit of snagging to be addressed.

Peter Bateman


Whilst l was dreading the ripping out of the old and installation of a new kitchen l needn't have worried. From starting with the design to finishing with minor snagging the experience could not have been better. The sub contractors supplied by Ramsbottom kitchens performed to a high standard and turned up when scheduled. Must make a special mention of Steve the fitter. Very methodical approach which resulted in a high standard of installation. The good experience was rounded off by the assistance provided by the administration team at head office. Kept in touch throughout the process and always willing to assist. Good value for money.

Fred Robinson


We had our kitchen fitted in 2002 so it's 15 years old this year!! It's still looking as good as the day it was fitted. On this basis two of our friends have had their kitchens designed and fitted by Ramsbottom Kitchen Company and they are equally delighted. A first class company.

Maureen Glynn


Ramsbottom Kitchens did an outstanding job from design to fitting. I was dreading the rip out day but there was no need to worry everything went as planned with no issues at all .Tradesmen, Kitchen units and appliances arrived in a scheduled order and the kitchen was completed on time. All the tradesmen from plasterer to plumber, electricians to fitters did an excellent job and were always very punctual, polite and courteous. I am extremely pleased with my new kitchen and would have no hesitation to recommend this company to anyone thinking of buying a new kitchen .

Susan Adams


Beautiful showroom products and people! Quality

Eddie Rock