There's something timeless about a white kitchen (they can be surprisingly versatile too) – but if you're looking for something a little more elaborate, why not consider one of the many kitchen wallpaper ideas available? Recently, wallpaper has seen something of a revival, adding colour, pattern and style to our once all-white kitchens. It's not just for walls, either: there's wallpaper for kitchen cabinets as well as wallpaper for kitchen tiles – and somewhere out there, there's sure to be a wallpaper to suit your personal style.
.
.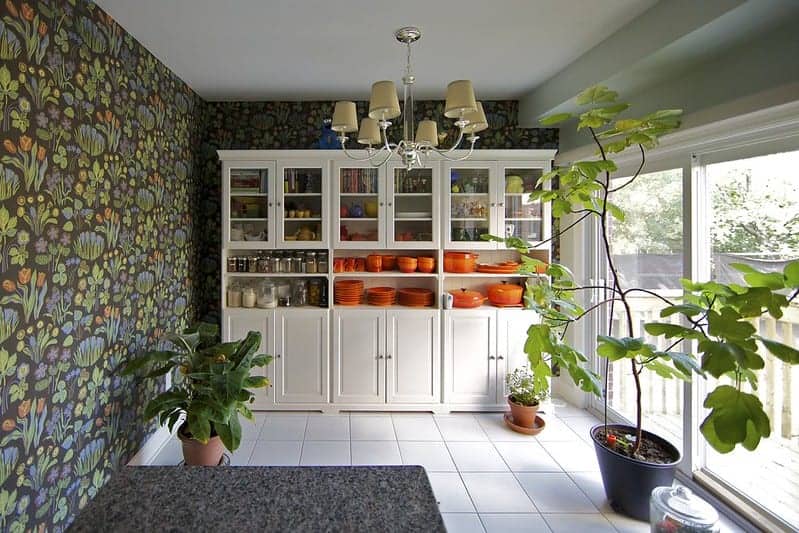 Dark And Dramatic
Hippie chicks and groovy guys rejoice: the seventies revival is in full swing – but this isn't your grandma's 1970's floral wallpaper:  this is retro with a twist. Here, the customary garish yellow florals of yesteryear have been replaced with black, purple, yellow, orange and green – creating a fun look that manages to be dramatic without being moody. To avoid the look becoming too oppressive, paint the adjoining walls in a lighter block colour, as seen here – and don't forget to pull in some pops of brightness from the colours on the wallpaper by using your favourite crockery and stoneware. Lastly – in true seventies fashion, add lots of potted plants to re-create that classic vintage look.
.
.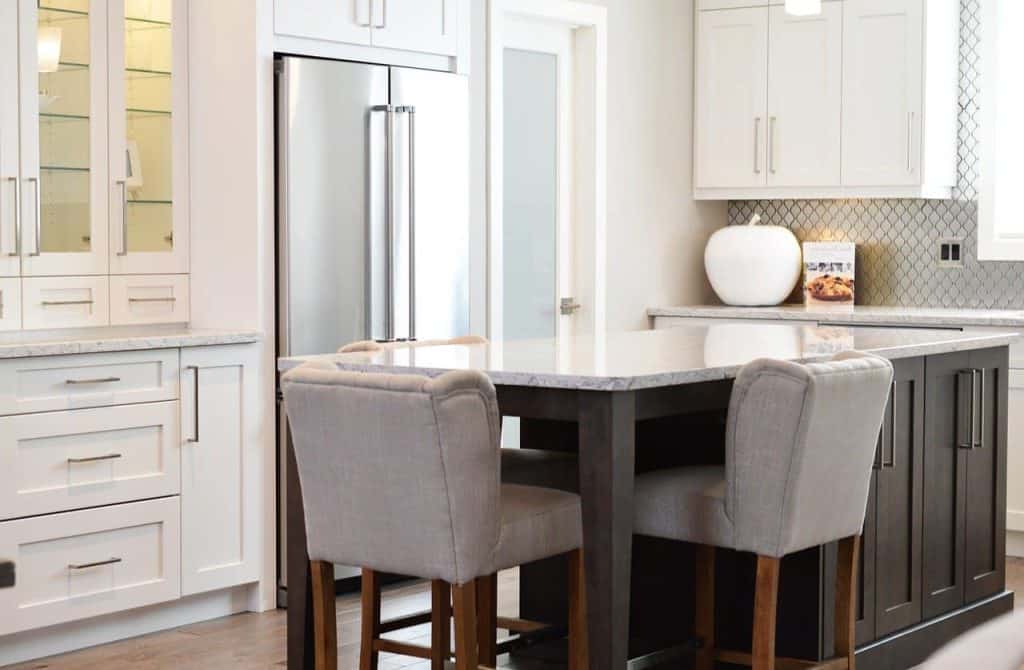 Love Your Accent
A feature wall (otherwise known as an accent wall) is the savoury yeast extract spread of the decor world – alternately loved – and hated. Whatever the case, their reccurence in homes everywhere suggests that they're here to stay – and in small kitchens, they can be especially impactful  – helping to add a splash of colour without totally overwhelming the space. For a stylish update, step away from block colour – and opt for a single wall papered in a smart, geometric pattern (or indeed, any pattern you like).
.
.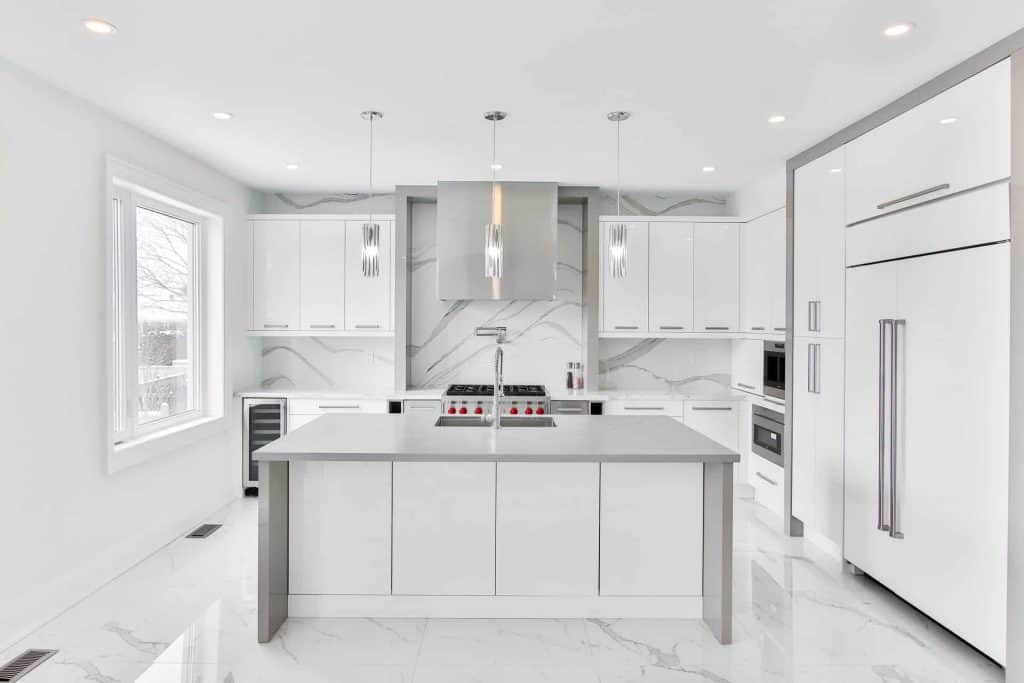 Marvellous Marble
Wallpaper doesn't have to be bright and bold: if you're looking for something a little more understated (and if you're not quite ready to wave goodbye to your white kitchen just yet) – a softer, tonal option might be for you. Here, the greys of the marble floor contrast beautifully with the kitchen island and surrounding accents, mirrored by a swirling, serene grey and white marble wallpaper. Keeping to a palette of two colours or less is essential for those who prefer a calmer space in which to eat, drink and entertain – while all white cabinetry with minimal hardware ensures the pattern on the walls and floors can flow as easily as the conversation.
.
.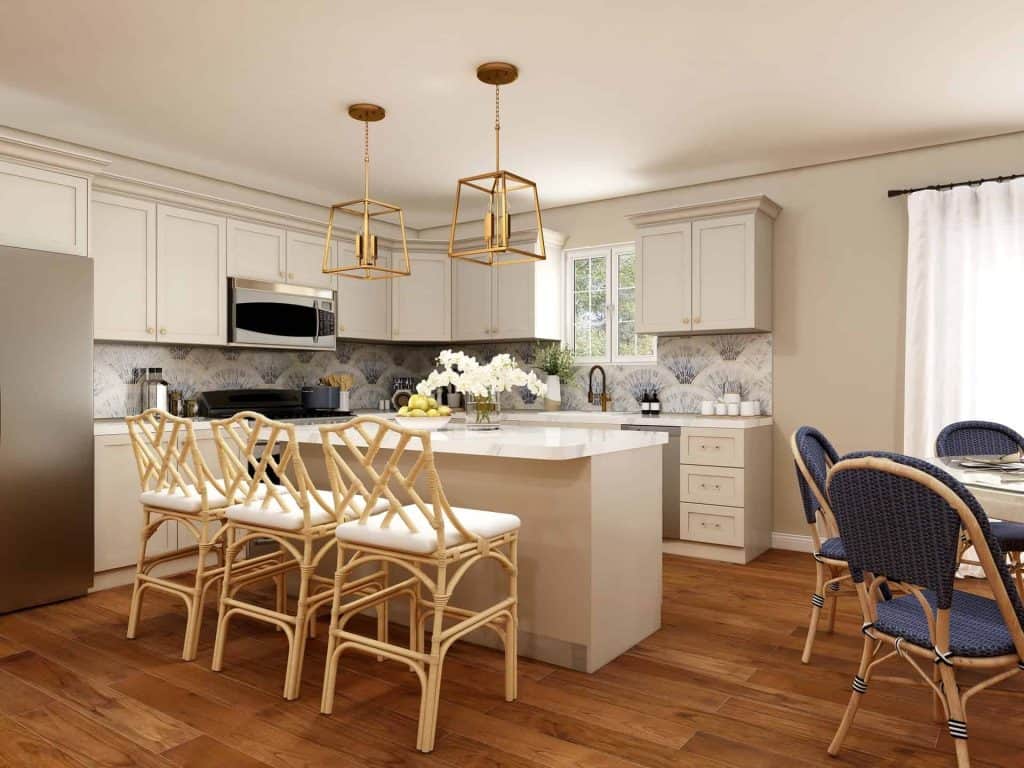 Modern Rustic
Too often, one tends to think of country-style or rustic kitchens as somewhat twee. Think again: adding a delicate floral wallpaper with a contemporary twist can be a lovely way to update the look of a room with minimal effort required. Shaker style cabinets add a traditional touch, while the contemporary light fittings and neutral wall colour elsewhere help to keep things from becoming too sachharine. If you have a more open plan style layout (such as a U or L shape kitchen), adding an accent wall might prove somewhat challenging if you're not sure where to hang your wallpaper  – but placing it just below the cabinetry – as seen here – can be an effective yet subtle way to add visual interest.
.
.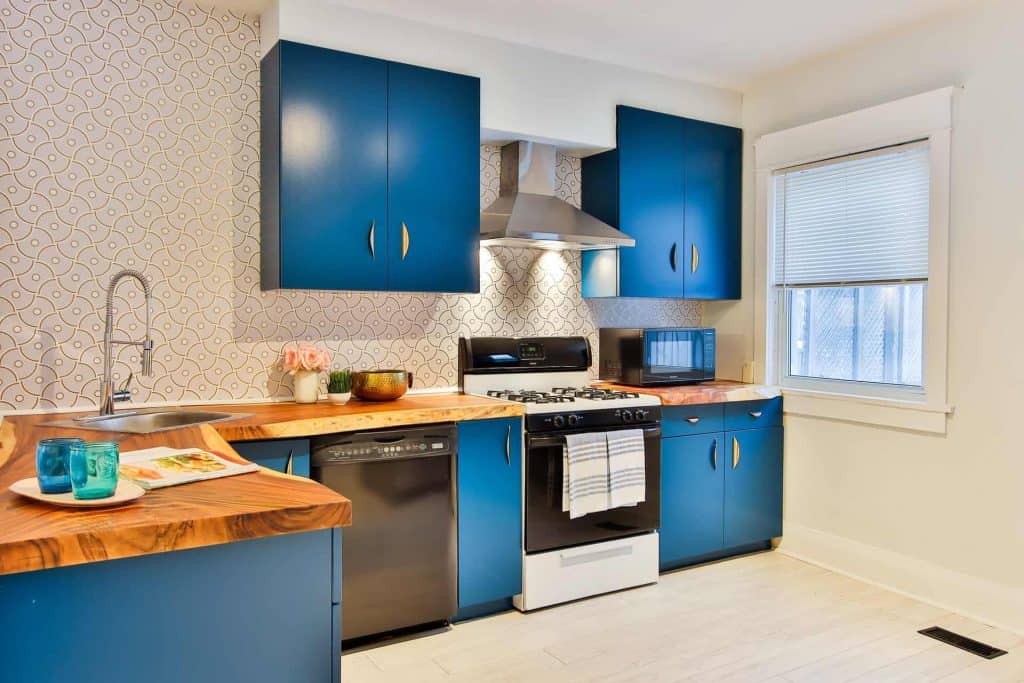 Contemporary Contrast
Sometimes, your kitchen needs a little something extra – and in your case, that something might just be a patterned wallpaper in a cool, modern design. Here, the blue painted cabinetry is offset by an intricate-yet-modern wallpaper in subtle neutral shades. With two main focal points to look at, keeping the remainder of the room light, airy and neutral is key:  here, a countertop in a natural wood finish provides subtle warmth to the room – while keeping the floors and opposite wall light and airy helps open up the space, allowing the dark blue paint and the detail on the wallpaper to stand out.
.
.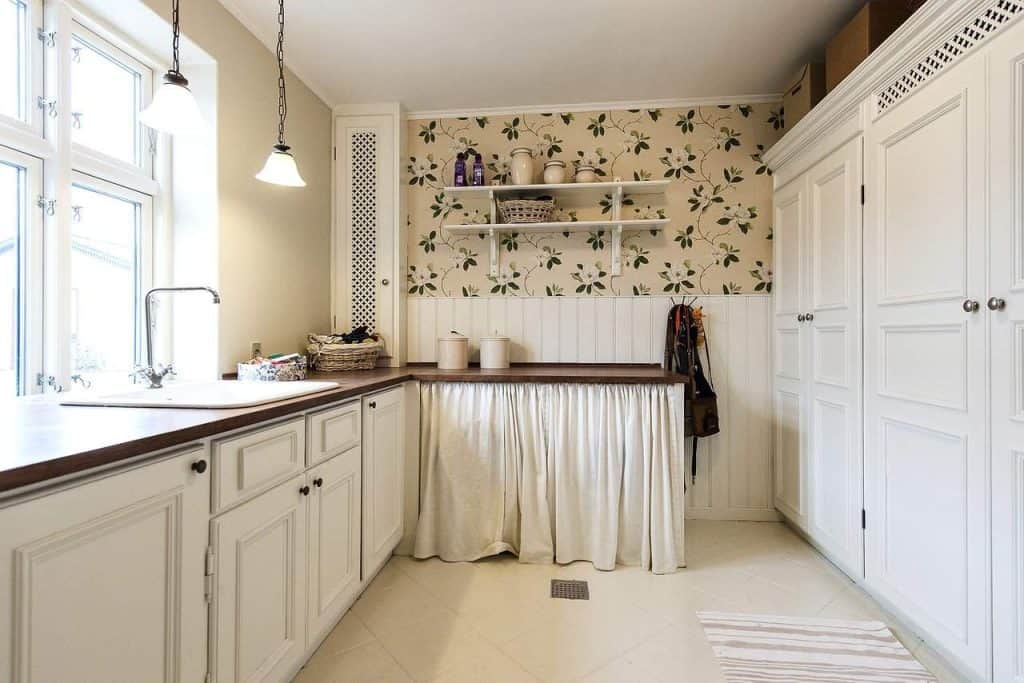 Coming Up Roses
Floral wallpaper used to have a reputation for being a little fussy – but with a light touch, the look can be transformed from chintzy to charming. Combining classic country kitchen style elements like a butler sink and traditional shaker-style cabinetry with contemporary light fittings and flooring gives a modern update to the traditional rustic style kitchen – while a tonal palette in shades of white and cream helps to keep the look bright and fresh. Coordinating the use of lighter colours with darker accents, such as on the wood countertops, cabinet hardware – as well as on the leafy rose pattern of the wallpaper – creates a grounded, yet harmonious feel.
.
.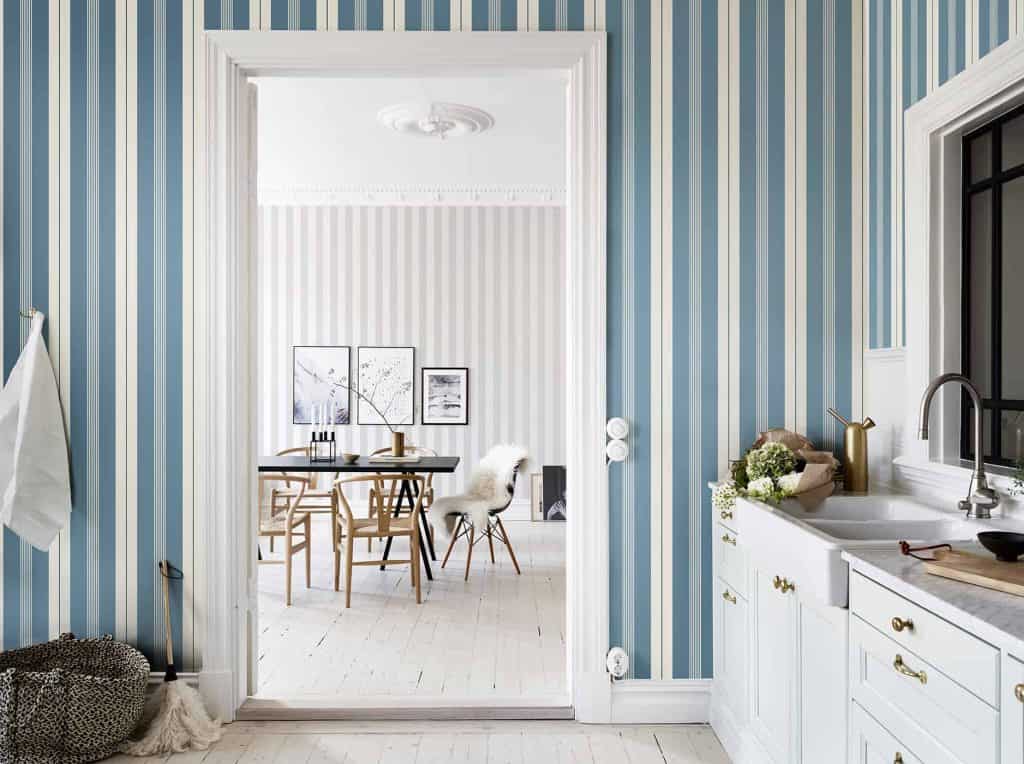 Earn Your Stripes
When it comes to wallpaper, a striped pattern is an evergreen (or in this case, blue and white) classic. Striped wallpapers are perfect for adding a smart, stylish statement look to your kitchen, complementing the simpler items in the room (such as white cabinetry) while adding a timeless look. In the same way that wearing vertical stripes on your clothes can give the illusion of added height, striped wallpaper can do the same for interiors – helping low-ceilinged spaces appear loftier than they actually are. Here, a sense of flow and continuity is added to the space by use of more stripes in a lighter colour on the wallpaper in the dining area.
.
.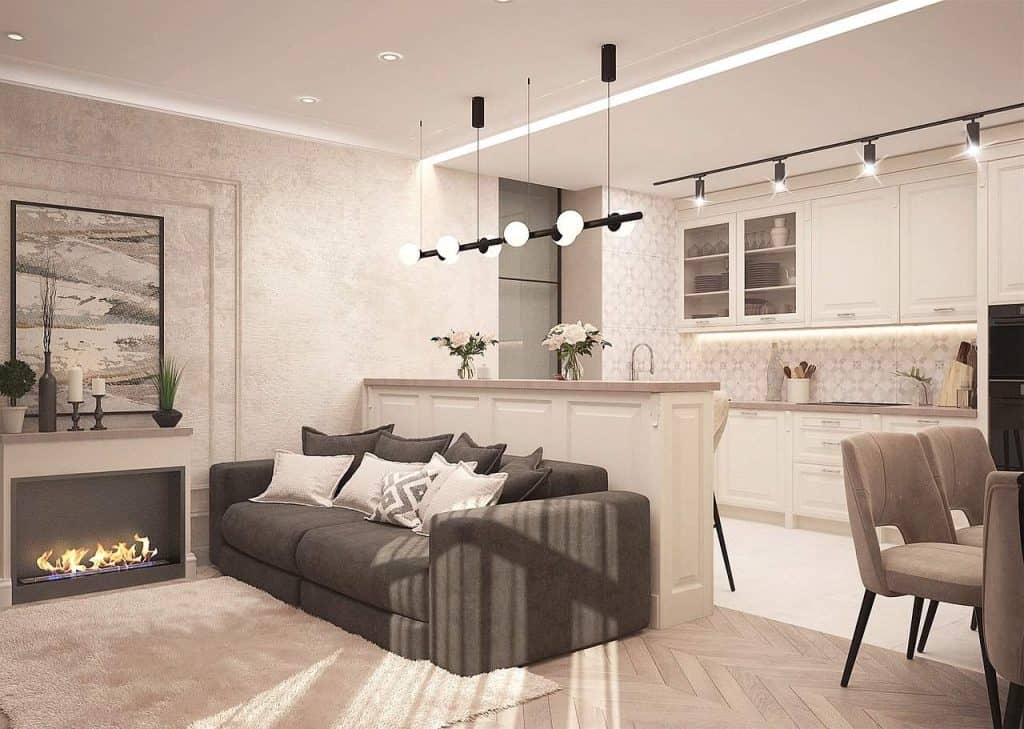 Softly, Softly
Another tonal kitchen look – but this time, clean, cool and contemporary. Staying within a neutral palette allows for plenty of room to play with texture and pattern – creating subtle visual interest within a calm, contemporary space that's neither bland nor boring. Using various soft, textural elements such as rugs, cushions and throws in corresponding neutral shades creates an added comfort factor to the adjoining living area – while the use of softly contrasted wallpaper throughout helps create a sense of peacefulness and flow – perfect for creating a blissed-out, easeful space to come home to at the end of a long day.
For more inspiring ideas to help you with your next kitchen makeover, why not visit one of our showrooms to see the best kitchens Preston and kitchens Manchester has to offer.