Just a few years ago, open plan kitchens were all the rage. Then they fell out of favour just as quickly as they had emerged, with people leaning more towards a classic style and going back to basics.
However, the world of kitchens and the trends within it are much like life in that they are cyclical. Coinciding with the emergence of the kitchen as a place for families to socialise and relax, the open plan design is well and truly back on the map. It's no surprise either, given the variety of options it affords people. Follow us as we take a deep dive into the open plan arena, exploring their resurgent popularity and myriad benefits.
What is an open plan kitchen?
Open plan kitchens are kitchens that naturally merge into other spaces within the house, most often a family living area or combined kitchen-diner. They are designed to bring people together, encourage social interaction and further cement the kitchens emerging reputation as a multi-purpose zone.
Why are they popular?
Generally, the popularity of open plan is a result of the sense of freedom and opportunity it evokes within the owner. They do away with walls, create space, let in more light and come in handy for a multitude of different activities. Read on for a more specific breakdown of the many qualities that attract people to open plan kitchens time and time again.
Space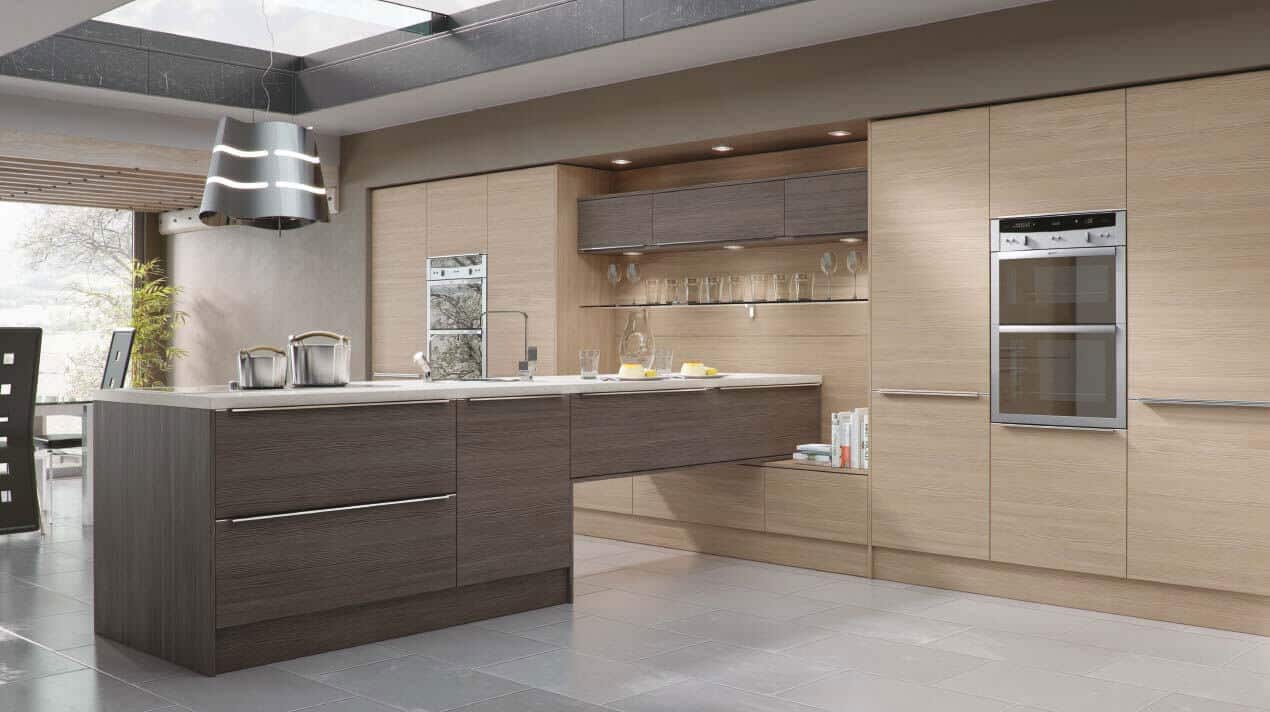 The key word is open. These kitchens make the most of the space you have, being particularly beneficial to those with smaller kitchens. Removing walls that separate pre-existing rooms makes for one much larger area that gives the impression of more space overall. It also allows you to use that space more smartly, making the most of every inch available to you.
Storage
The added space also allows for even more storage, meaning your kitchen can hold more utensils, apparatus and tools than ever before. Smart storage is common within open-plan kitchens, with unusual spots doubling up as the home for many kitchen or general items.
Living & Socialising
Perhaps the biggest plus of all is the transformation of a kitchen into a room that also incorporates a place to live, have fun and socialise. This makes open plan living a particularly attractive choice for families, who can use open plan kitchens to craft the heart of their home.
Enjoy the Outdoors
This benefit applies to those with kitchens or living areas close by. Couple your new open plan area with bi-fold doors and open your new kitchen to the great outdoors. The appeal of this is seasonal, of course, but imagine how effective it could be in the summer months. Barbeques would never be the same again.
Flexible Layout
There's no kitchen design more flexible and adaptable than open plan. With a larger, open floorplan you can pick almost any layout imaginable, or even devise a completely new one unique to your kitchen. Bear in mind the number of people regularly using it, the different people in your house and their needs, and your own stylistic sensibilities. With an open plan kitchen layout, you can satisfy all of those needs and more.
Curves
Straight lines are still common in open-plan kitchens, but they also lend themselves well to the creative use of curved edges, be it part of a modern or traditional look. This looks particularly good when used in conjunction with an island.
Islands
Kitchens that may not have previously had the room for an island are made more spacious and thus able to hold that increasingly desirable feature. Islands allow for a 360-degree point of use, as well as being an aesthetically pleasing bonus that really makes any kitchen stand out.
Natural Lighting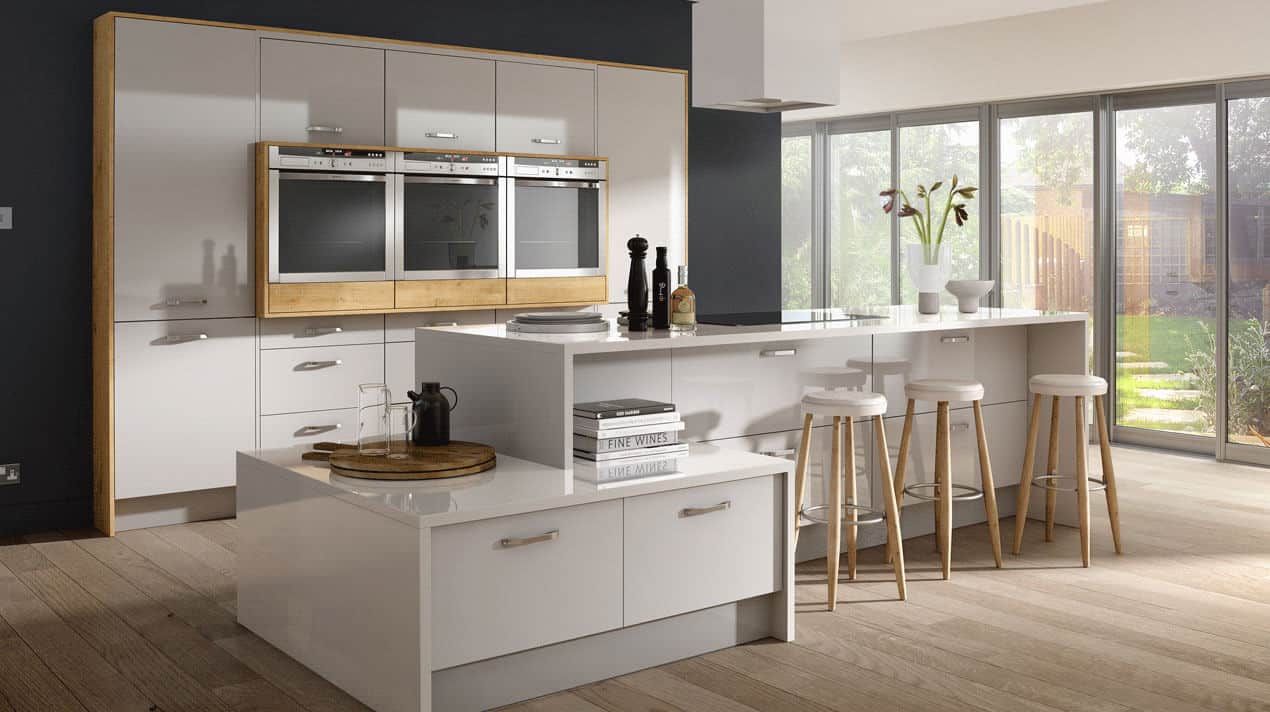 Kitchens can be dark, often relying on artificial light, which is fine. But if you're looking to let in something a little more natural, then an open plan kitchen is the way forward. If you are combining a kitchen with your pre-existing living area, then you can make use of that rooms natural light at the front or back of the house in order to make your kitchen a much brighter, positive area. This is very effective if your property has large windows, or you could add bifold doors to complete the effect.
Utility Room
Another possibility is to make use of the extra space by adding yet another function to your new open plan kitchen; a utility room. Adding this bonus area will save yet more space, giving you the potential to cook, eat, relax and clean or organise all in the same place.
Breakfast Bar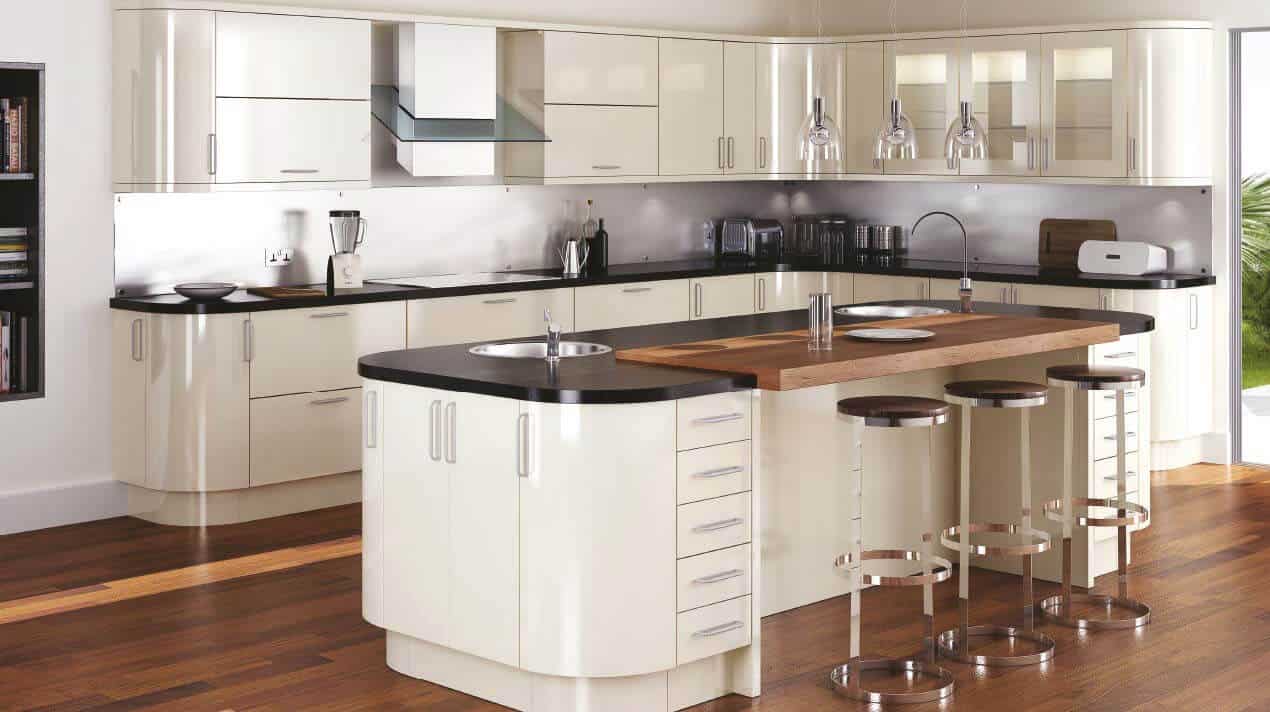 You prepare meals in the kitchen, so why not eat them in there too? Add a breakfast bar to your open-plan kitchen and you can do exactly that. This in-fashion addition is the perfect happy medium between your standard kitchen area and the more comfortable relaxation zone.
All in all, the pros of making your kitchen an open plan kitchen are vast in number and highly effective in how they can change the way you live. Take the plunge and go for open plan living today. You'll never look back.