When it comes to kitchen design or kitchen remodelling, allowing a kitchen design company to help translate your vision into reality can seem more than a little terrifying – especially when the size of the project and the disruption to everyday life are taken into consideration. Luckily, our friendly designers at Ramsbottom Kitchens have years of experience working with clients, listening to their dreams, understanding their needs and making suggestions as to how these ideas can be realised.
Bespoke kitchens often take inspiration from numerous sources, with many clients finding kitchen design ideas that offer a juxtaposition between classic and contemporary increasingly common.
From rustic farmhouse designs, to clean handle-less modern kitchen layouts, at Ramsbottom Kitchens we believe that your kitchen should reflect your personality, but also offer the latest appliance brands such as NEFF, Rangemaster, Sensio and Quooker to help the room become a hub of sophisticated productivity.
In this article, we're going to look at some of the best kitchen design ideas available across the country, and hopefully inspire you to consider your own bespoke kitchen design.
Make it easy to clean with tiles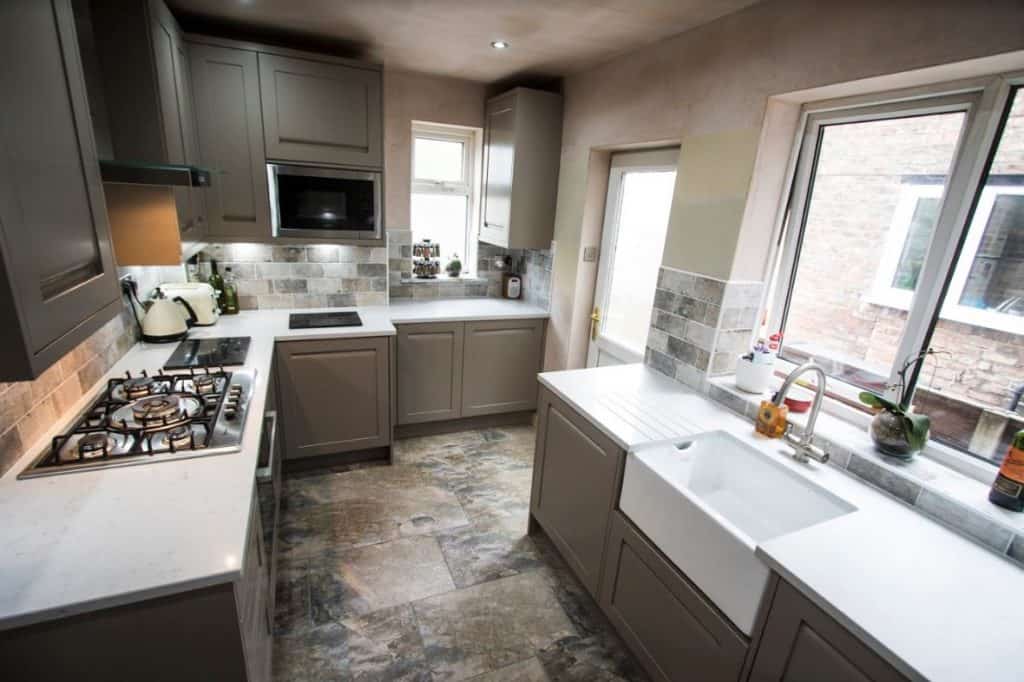 If you're quite the culinary expert in the kitchen and enjoy experimenting with different preparation styles of food, you're probably more than aware of the state that your kitchen can be left in once you have finished. To keep splashes and stains from covering your walls, the use of tiling can not only make life easier for cleaning, but also helps with aesthetics.
Regardless of your kitchen style, there are thousands of different size tiles using varied materials and colours to help them blend in. Most people choose to add tiles at varied heights above their worktop, whereas others choose to entirely cover certain sections of wall. Regardless, the ability to wipe them clean after every meal preparation certainly makes keeping your kitchen in showroom condition a little easier.
Make your kitchen seem spacious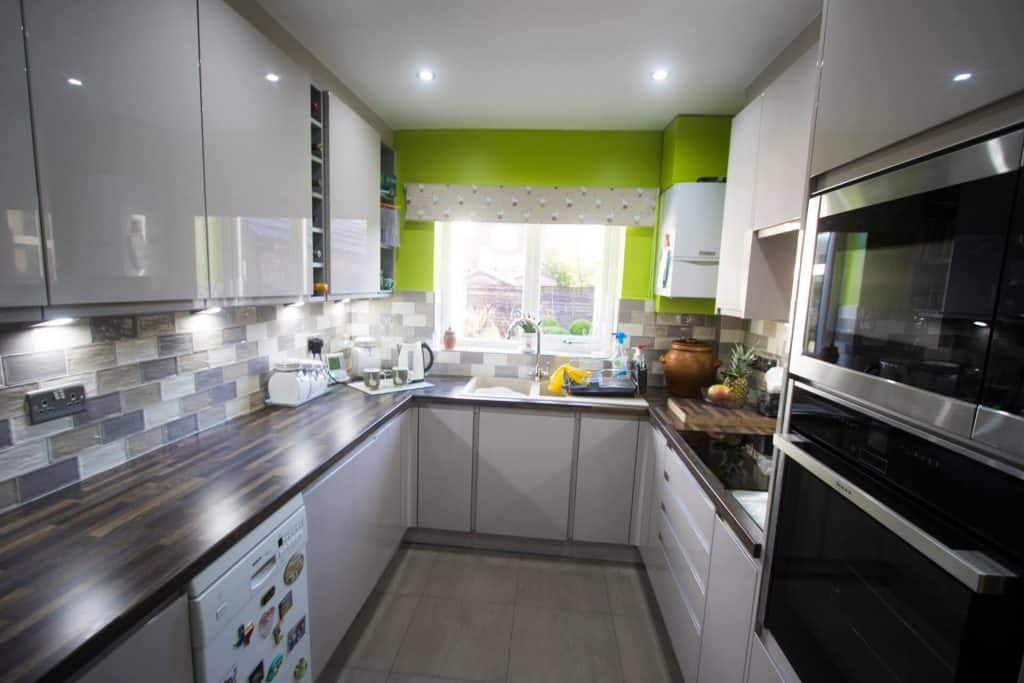 In the UK, it's fair to say that many homes have smaller kitchens in comparison to those in, say, American homes. However, it's more than possible to work with the space to create something magical.
You can always create the illusion of space by carefully choosing a kitchen design that is minimalist. Fortunately, in the world of bespoke kitchens there are a multitude of options to keep the room free from clutter without losing storage space including sliding drawers and units, as well as fitted appliances.
Another way to add 'air' to your kitchen is down to your choice of materials. By choosing materials that are reflective, you can not only increase the amount of light in the room, but also fool the eye into extending the space beyond its physical boundaries.
Keep it smooth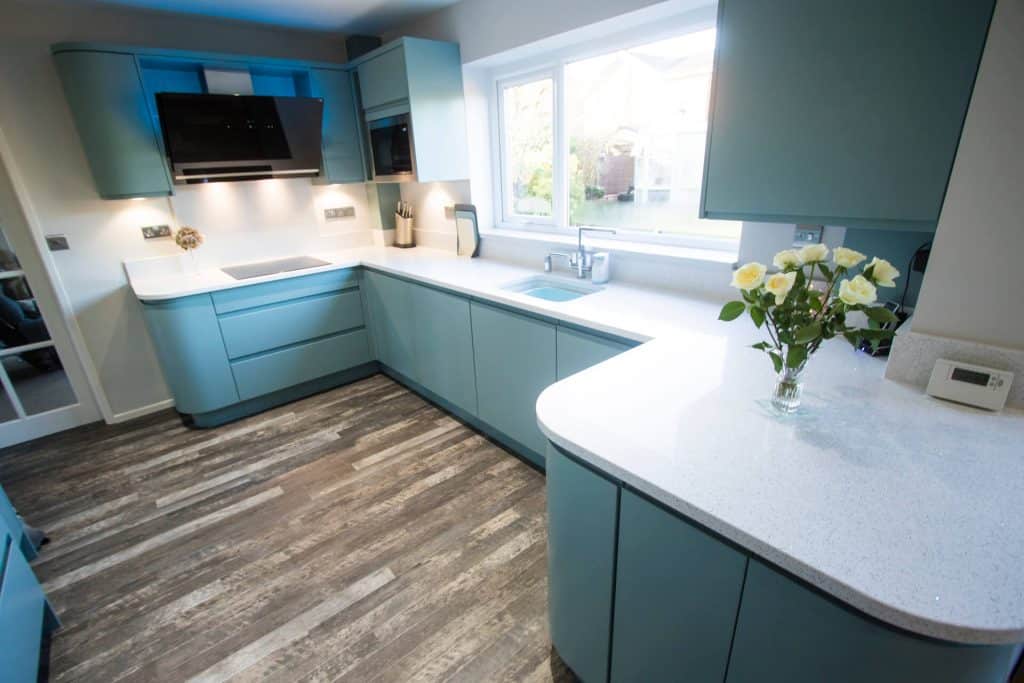 In recent years, handleless kitchens, have grown in popularity thanks to the smooth, elegant look it can provide. Handleless kitchens help units to seem less intrusive – especially where space is an issue – while still offering all the benefits of a standard kitchen.
As kitchen ideas continue to modernise, handle-less kitchens appear to be the natural evolution of the styles that appeal to our clients, and the sleekness afforded by such a design continues to be in heavy demand.
Enjoy a kitchen island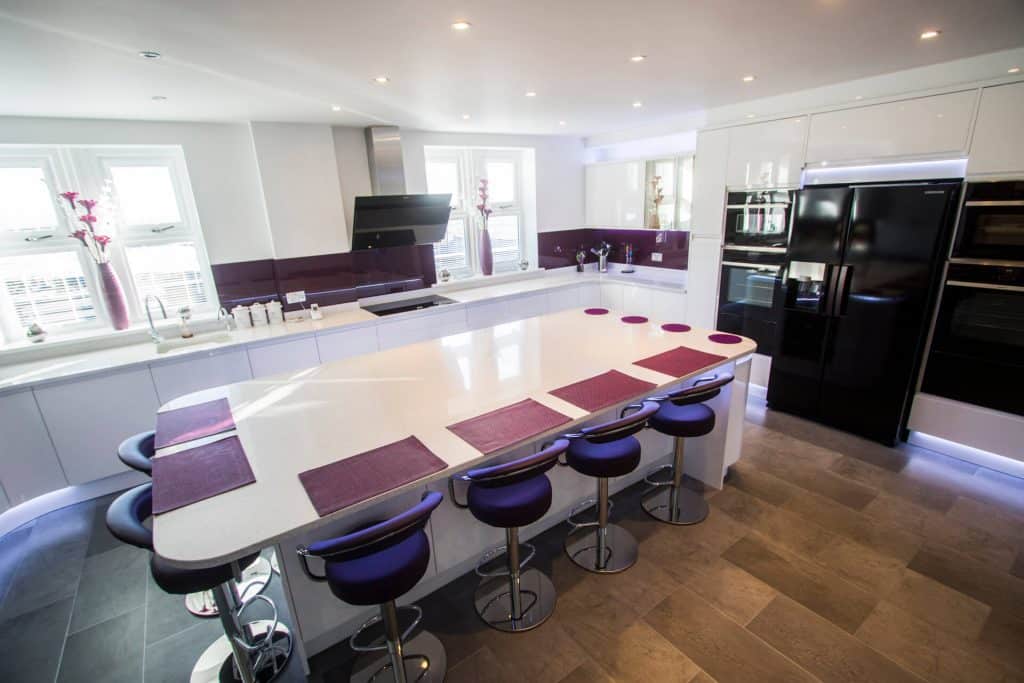 Space permitting, a kitchen island has become a mainstay in designs across the globe. For those who feel that preparation space comes second only to oxygen in their hierarchy of needs, a kitchen island is the perfect solution. By incorporating additional cupboards, drawers, shelves and even appliances such as ranges, a kitchen island can transform your ability to prepare and serve food.
Furthermore, by adding features such as bar stools you can turn your kitchen island into a social hub for friends and family, as well as using it to serve food during parties.
Choose your lighting well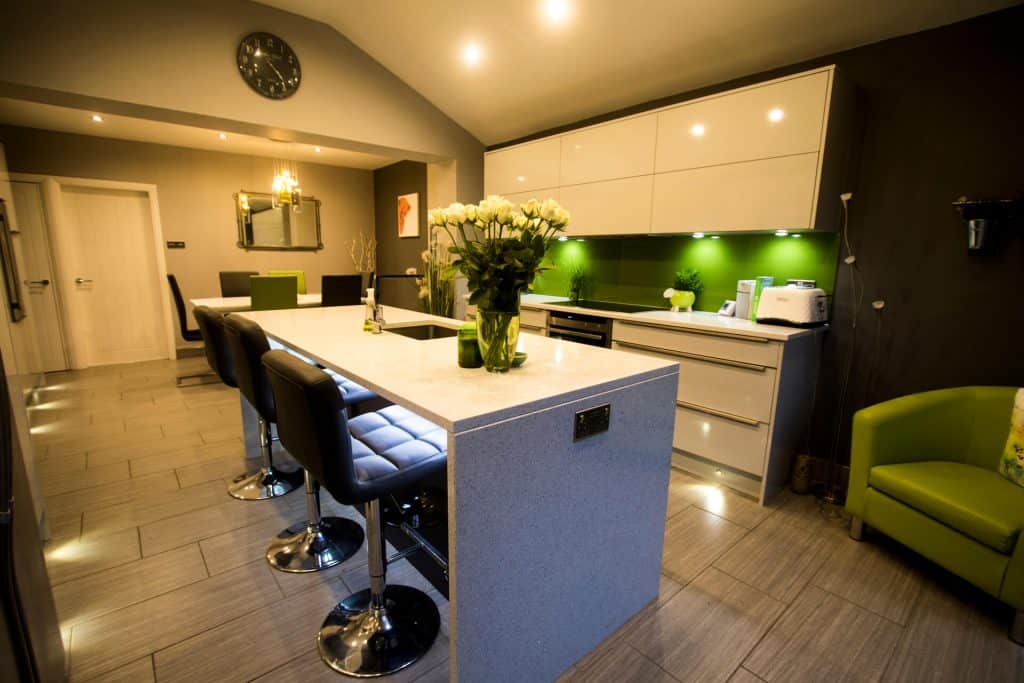 Contrary to popular opinion, the factor that – more often than not – determines the enjoyment of a diner in a restaurant is not the food but the lighting.
Lighting is the key ingredient to making you feel comfortable, and should be deployed around your kitchen by a professional designer to ensure that there is ambient lighting for general use, accent lighting for highlighting aesthetic features, and also task lighting for when you are preparing food.
These different types of light can be direct or indirect; RGB LEDs or incandescent – the choices are endless, and at Ramsbottom Kitchens, we only work with respected companies such as Sensio, and will only ever choose an approach that is bespoke for your kitchen.
Get the best gadgets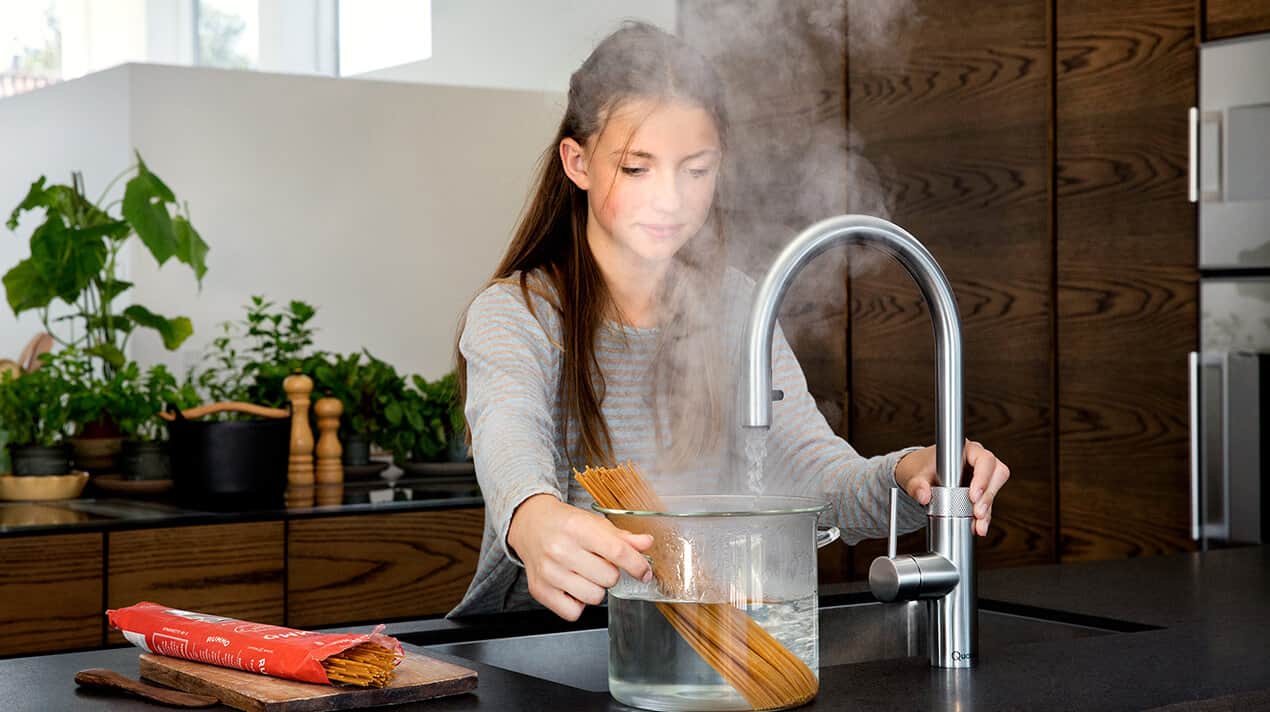 Everybody loves gadgets that makes menial tasks easy, and there's no better place for the latest technological wizardry than in a freshly remodelled kitchen.
As a NEFF 5-Star Masterpartner, we call on their 40 years of experience designing sleek and sophisticated appliances that seamlessly blend in with your décor – while also delivering world-class functionality and performance.
For fitted appliances such as cookers, we work with companies such as Rangemaster who have, over their almost 200-year history been providing high-end cooking ranges and ovens from their base in Royal Leamington Spa. We even work with companies such as Quooker, who provide elegant but advanced hot water taps that take the place of your kettle or range for heating water for drinks and food preparation.
From extractors to dishwashers to fridges, there's never a need to sacrifice aesthetics for efficiency.
Get your flooring right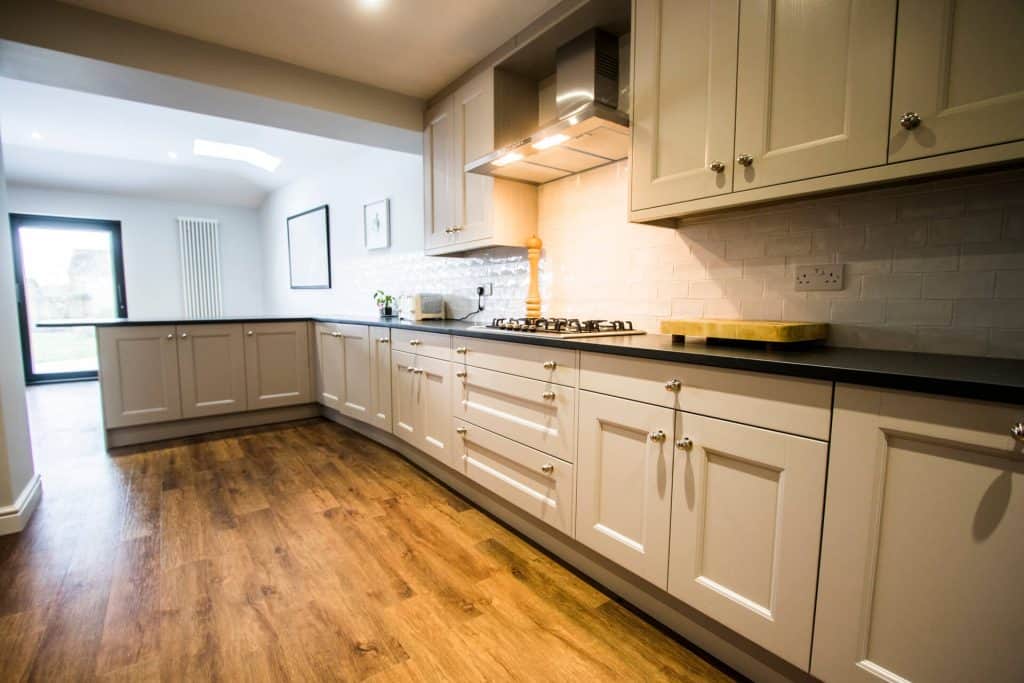 Have you ever noticed the difference high quality flooring can make to a room? From subtle rustic charcoal coloured flag stones, to smooth varnished beechwood, flooring must compliment the rest of your design. The feel of a good floor can also be extended to the facility of underfloor heating, allowing you to wander in with bare feet and make a brew on those lazy days off without feeling a chill.
Use your home to your advantage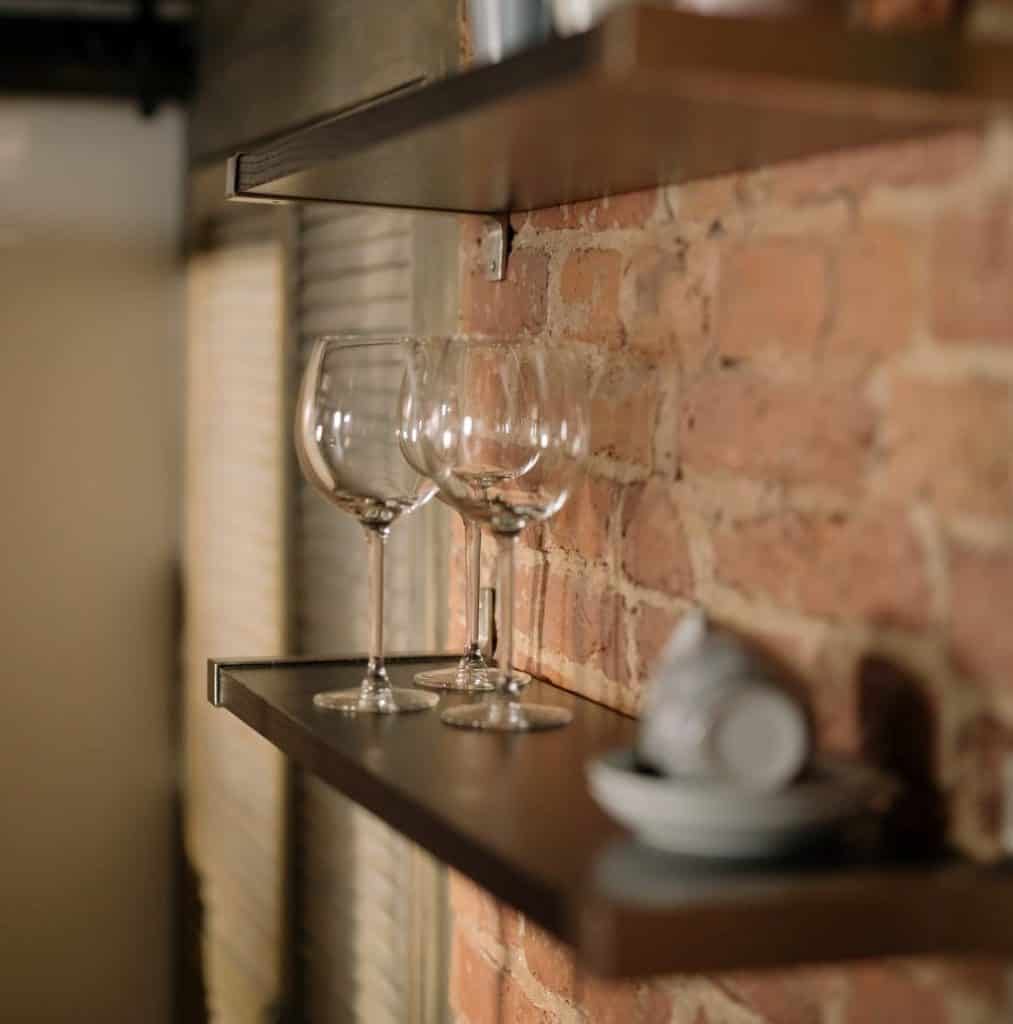 If you're lucky enough to live in an older house that is capable of exhibiting features as part of your new traditional kitchen design ideas, why not use it to your advantage?
Many older homes can offer exposed beams that can be treated and stained, while also offering a place for hanging storage, lighting while also offering greater headroom. Similarly, many homes are built with clay brickwork which can be exposed across one or more walls within your kitchen, providing a warm yet rustic surface upon which complementary shelving can be mounted.
More often than expected, hardwood flooring such as oak in older homes can also be used as a cheap but effective flooring option, whether it is limewashed, varnished or simply waxed and left bare.
Experiment with colour tones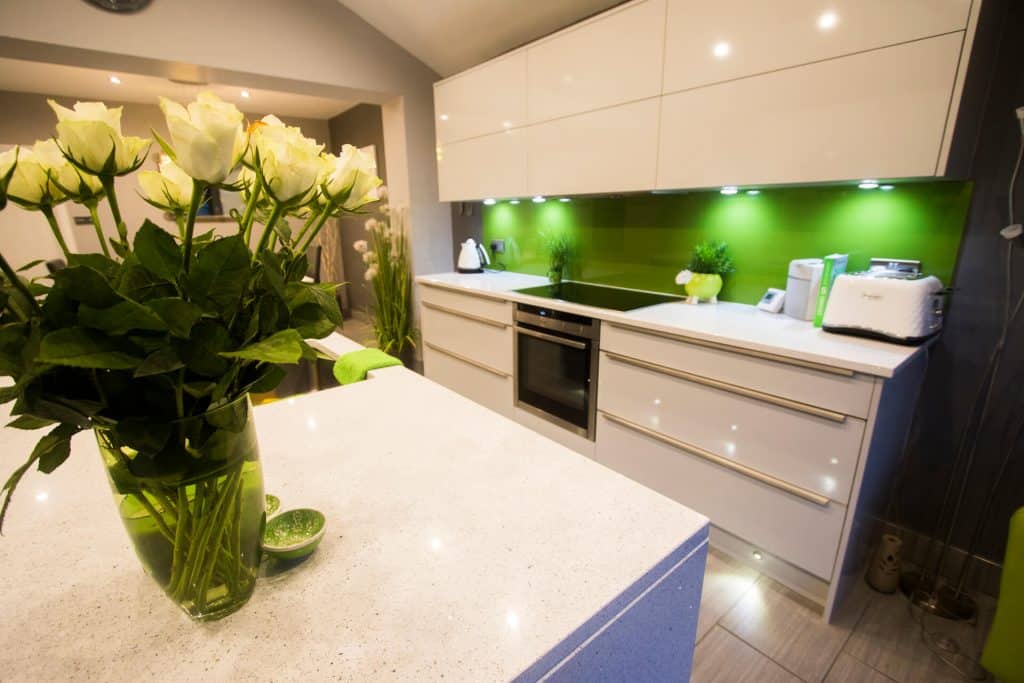 While many individuals will admit that colour-matching and choosing tones for their home is not their strongest skill, by talking to professional designers about the possibility of colour schemes you can transform your kitchen with either subtle or bold choices to wow your guests.
In certain designs, a new kitchen can offer bold, brash colours that help to shift focus to certain room features. Yet in other designs, a more subtle two-tone variance can be more appropriate. Regardless of your desired style of kitchen, you can guarantee that companies such as Ramsbottom Kitchens will always be able to guide you through the gauntlet of colour choices available and how they will ultimately look in your home.
Remember why you have a kitchen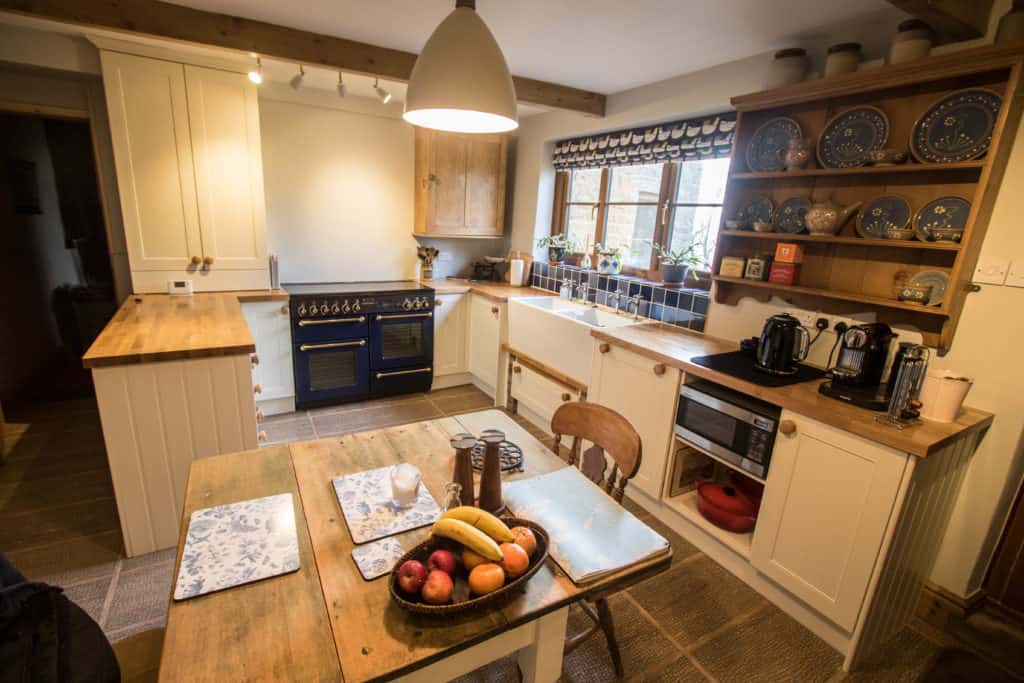 As strange as it seems, so many people get carried away by the number of possibilities available to them for a new bespoke kitchen design that they can easily forget the room's purpose.
A simple search on the web for 'bad kitchen designs' will provide countless examples of people who have chosen features that are not fit for purpose. From undersized sinks and incorrectly sized units, to bad lighting and badly placed appliances – a kitchen that fails to serve as a room for preparing food may as well be a simple reception room.
At Ramsbottom Kitchens, we always ensure that our designs offer the perfect combination of beauty and usefulness. Moreover, as our builds are always bespoke for your home you can rest assured that every decision made during the design process has been made to fit in with your life, allowing you to enjoy every advancement in kitchen technology without sacrificing style.
Are you considering remodelling your kitchen? With a free design and only a £10 deposit for any project, Ramsbottom Kitchens have been designing and building stunning kitchens for 30 years across the Northwest including Manchester, Bolton, Blackpool, Preston, Bury and many more. Why not visit our 15,000ft showroom and talk to our friendly staff for more ideas?