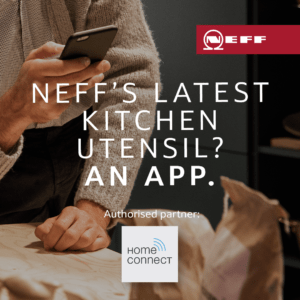 INTRODUCING HOME CONNECT
Cooking at its best has always been a sociable experience in which the kitchen works in concert to support cooks
in living out their creativity. We've taken the connected kitchen one step further: now you can manage your oven,
fridge, dishwasher and other home appliances with Wi-Fi and Home Connect. Tap via the app, speak to your oven
with voice control and make appliances interact with one another automatically. And these are just a few examples of what Home Connect makes possible.
COMMUNICATE WITH YOUR OVEN START COOKING WITH THE APP AND GET NOTIFIED WHEN DINNER IS READY

 For many Cookaholics, talking to their oven comes naturally. With your
hands full kneading dough and rolling it out for tagliatelle, it's more than
handy to start the oven and select the relevant cooking function hands-free via voice control. Our oven can talk back too: with Home Connect you can expect to receive a notification directly to your smartphone when dinner is ready. So you can focus on entertaining your guests.
KEEP YOUR HANDS ON THE COOKING LET THE HOOD JUDGE THE EXTRACTION YOU NEED

When you and your hob are causing a steam storm in the kitchen, our Automatic Hood springs to life as the two appliances are connected via Wi-Fi. The hood automatically adapts the extraction rate to the cooking aromas and vapours it detects. If desired, you can even adjust the extraction via the Home Connect app or using the stylish TwistPadFire® dial on the cooktop – there's a control option to suit any mood.
LIGHT TO SUIT YOUR TASTE

Change the light in the kitchen to suit your mood. Depending on the situation, you can go from cool blue to romantic red with our hood's Ambient Light. Choose your tone via the Home Connect app.
IT'S SUPER COOL TO CONNECT OUR WIFI-CONNECTED FRIDGE IS READY WHEN YOU ARE

Maybe you're at the supermarket doing a big shop and need to pre-cool the fridge so your groceries are chilled quicker. Or you've bought drinks for a party and need them to be cooled on time. With Super Cooling, you can get your fridge down to temperature before you get home – a few taps in the app is all it takes.